ONE HEARS
30th May 1922
Page 3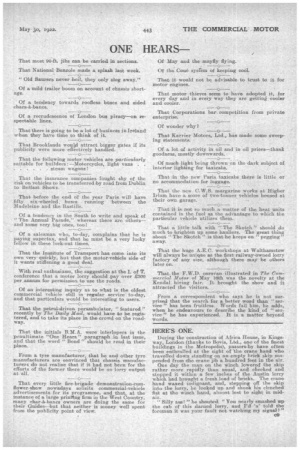 Page 3, 30th May 1922 —
ONE HEARS
Close
That most 90-ft. jibs can be carried in sections. That National Benzole made a splash last week. "Old Saurers never boil, they only slog away."
Of a mild trailer boom on account of chassis shortage.
Of a tendency towards roofless buses and sided char-a-A-banes.
Of a recrudescence of London bus piracy—on re spectable lines, That there is going to be a lot of business inIreland when they have time to think of it.
That Brookiands wanlil attract bigger gates if its publicity were more effectively handled.
That the following motor vehicles are particularly suitable for builders :—Motorcycles, light vans .
steam wagons!
That the insurance companies fought shy of the risk on vehicles to be transferred by road from Dublin to Belfast Shows.
That before the end of the year Paris will have fifty six-wheeled, buses running between the Madeleine and the Bastille.
Of. a tendency in the South to write and speak of "The Annual Parade,". whereas there are others— and some very big ones, tool Of a salesman who, to-day, complains that he is paying supertax, and that he must be a very lucky fellow in these lock-out times.
That the Institute of Transport has come into its own very quickly, but that the motor-vehicle side of it wants stiffening a goad deal.
With real Cnthusiastre the suggestion at the I. of T. conference that a motor lorry should pay over £300 per annum for permission to use the roads.
Of an interesting inquiry as to what is the oldest commercial vehicle still in regular service to-day, and that particulars would be interesting to users.
That the petrol-driven perambulator; " featured " recently by The Daily Mail, wonld have to be registered, and to take its place in the crowd on the roadway.
That the initials B.M.A. were interlopers in the penultimate "One Hears" paragrach in last issue, and that the word "Bond " should be read in their place.
From a tyre manufacturer, that he and other tyre manufacturers are convinced that chassis manufacturers do not realize that if it had not been for the efforts of the former there would be no lorry output at all.
That every, little fire-brigade• -demonstration-numflower-sho w nowadays solicits commercial-vehicle advertisements for its programme, and that, at the instance of a large printing firm in the West Country, many ehar-h-banes owners are doing the same for their Guides—but that neither is money well spent from the publicity point of view.
Of May and. the mayfly flying.
Of the. Cone sysFem of keeping cool.
That it would not be advisable to trust to it for motor engines.
That motor thieves seem to have adopted it, for every day and in every way they are getting cooler and cooler.
That Corporations bar competition from private enterprise.
Of wonder why'?
That Karrier Motors, Ltd., has made some sweeping statements.
Of a lot of activity in oil and in oil prices—thank goodness, mostly downwards.
Of much light being thrown on the dark subject of interior lighting for taxicabs.
Tliat in the new Paris taxicabs there is little or no accommodation for. luggage.
That the new C.W.S. margarine works at Higher Irlam have a score of two-tanner vehicles housed at their own garage.
That it is not so much a matter of the heat units contained in the fuel as the advantage to which the particular vehicle utilizes' them.
. That & little talk with " The Sketch" should do much to .brighten up some hauliers. The great thing about "The Skotch"is that he keeps on " pegging " away.
That the huge A.E.C. workshops at Walthamstow will always be unique as the first railway-owned lorry factory of any size, although there may be ethers later on.
That the F.W.D. caravan illustrated in The Commercial Motor of May ielli was the novelty at the Kendal hiring fair. It brought the show and it attracted the visitors.
From a correspondent who says he is not surprised that the search for a better ward than "service " has been fruitless. Words fail him, be adds, when he •endeavours to describe the kind_ of " service " he has experienced. ft is a matter beyond words.