HERE'S ONE.
30th May 1922
Page 3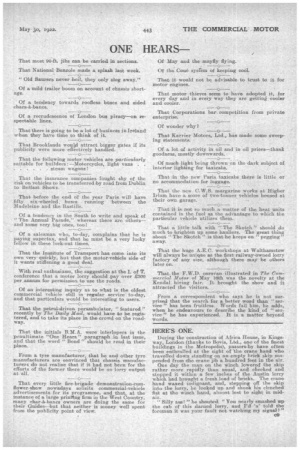 Page 3, 30th May 1922 —
HERE'S ONE.
Close
During the construction of Africa House, in Kingsway, London (thanks to Rovis, Ltd., one of the finest buildings in the Metropolis), passers-by have often been enthralled at the sight of the crane band who travelled.down,standing on an empty brick skip suspended from dm crane Jib a hundred feet in the air.
One day the man on the winch lowered the skip rather more rapidly than usual, and checked and stopped it within a few inches of the Austin lorry which had brought a fresh lead of bricks. The crane hand. waxed indignant, and, stepping eff the skip into the lorry, he looked up and shook his clenched fiat at the winch hand, almost lost to sight in midair.
" Silly a.ss! "he shouted. "You nearly smashed up the cab of this darned lorry, and I'd 'a' told the foreman it was your fault not watching my signal l"