P&O fine quashed
30th March 1985
Page 9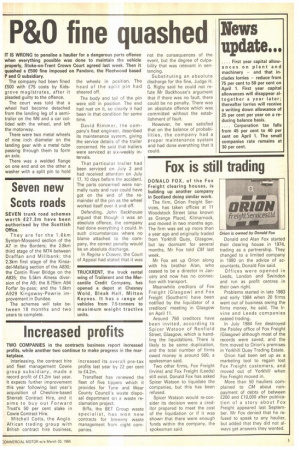 Page 9, 30th March 1985 —
P&O fine quashed
Close
IT IS WRONG to penalise a haulier for a dangerous parts offence when everything possible was done to maintain the vehicle properly, Stoke-on-Trent Crown Court agreed last week. Then it quashed a £500 fine imposed on Pandoro, the Fleetwood based P and 0 subsidiary.
The company had been fined £500 with £75 costs by Kidsgrove magistrates, after it pleaded guilty to the offence.
The court was told that a wheel had become detached from the landing leg of a semitrailer on the M6 and a car collided with the wheel, and left the motorway, There were two metal wheels of nine inch diameter on the landing gear with a metal tube passing through them to form an axle.
There was a welded flange on one end and on the other a washer with a split pin to hold the wheels in position. The head of the split pin had sheared off.
The body and tail of the pin were still in position. The end had rust on it, so clearly it had been in that condition for some time.
David Rimmer, the company's fleet engineer, described its maintenance system, giving the service details of the trailer concerned. He said that trailers were serviced at six-weekly intervals.
That particular trailer had been serviced on July 2 and had received attention on July 17, 10 days before the accident. The parts concerned were normally rusty and rust could have got on the end of the remainder of the pin as the wheel worked itself over it and off.
Defending, John Backhouse argued that though it was an absolute offence, the company had done everything it could. In such circumstances where no blame attached to the company, the correct penalty would be an absolute discharge.
In Regina v Crawec, the Court of Appeal had stated that it was not the consequences of the event, but the degree of culpability that was relevant in sentencing.
Substituting an absolute discharge for the fine, Judge H. G. Rigby said he could not refute Mr Backhouse's argument that if there was no fault, there could be no penalty. There was an absolute offence which was committed without the establishment of fault.
However, he was satisfied that on the balance of probabilities, the company had a proper maintenance system and had done everything that it could.