MIN MI
30th March 1985
Page 9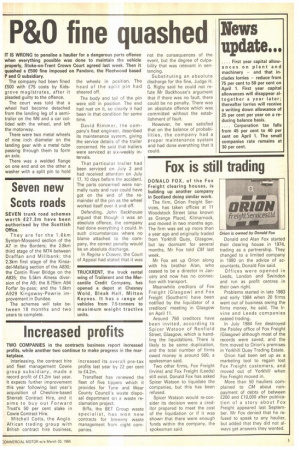 Page 9, 30th March 1985 —
MIN MI
Close
DRUM
Freight5ervicesLtd.
Orion is owned by Donald Fox
Donald and Alan Fox started their clearing house in 1974, trading as a partnership. They changed to a limited company in 1980 on the advice of accountants, Donald Fox said.
Offices were opened in Leeds. London and Swindon and run as profit centres in their own right.
Problems started in late 1983 and early 1984 when 20 firms went out of business owing the firms money, he said. The Irvine and Leeds companies ceased trading.
In July 1984 fire destroyed the Paisley office of Fox Freight (Glasgow) although most of the records were saved, and the firm moved to Orion's premises in Yorkhill Quay Trading Estate.
Orion had been set up as a marketing tool to regain lost Fox Freight customers, and moved out of Yorkhill when Fox Freight moved in.
More than 50 hauliers complained to CM about nonpayment of debts of between £200 and £10,000 after publication of a story about Fox Freight appeared last September. Mr Fox denied that he refused to speak to any haulier, but added that they did not always get answers they wanted.