Leyland better
30th March 1985
Page 7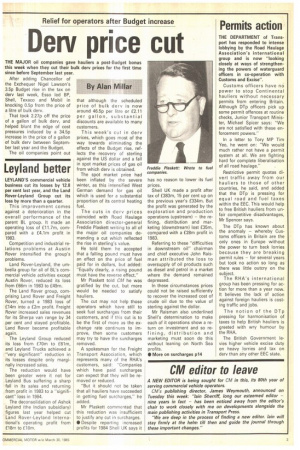 Page 7, 30th March 1985 —
Leyland better
Close
Keywords :
British Leyland
,
Rover
,
British Brands
,
Land Rover Group
,
Rover Company
,
Freight Rover
,
Rover Group
,
Leyland Trucks
,
Land Rover
,
Leyland Bus
,
Austin Motor Company
,
Ashok Leyland
,
Business / Finance
LEYLAND'S commercial vehicle business cut its losses by 12.8 per cent last year, and the Land Rover-Leyland Group cut its loss by more than a quarter.
This improvement comes against a deterioration in the overall performance of the parent BL group. It made an operating loss of £11.7m, compared with a £4.1m profit in 1983.
Competition and industrial relations problems at Austin Rover intensified the group's problems.
Land Rover-Leyland, the umbrella group for all of BL's commercial vehicle activities except Austin Rover, reduced its loss from £66m in 1983 to £49m.
The Land Rover group, comprising Land Rover and Freight Rover, turned a 1983 loss of £14m into a £2m profit. Freight Rover increased sales revenues for its Sherpa van range by 34 per cent and stayed profitable. Land Rover became profitable again.
The Leyland Group reduced its loss from f7Om to £61m, and Leyland Trucks achieved a "very significant" reduction in its losses despite only marginally increased sales.
The reduction would have been greater were it not for Leyland Bus suffering a sharp fall in its sales and returning from profit in 1983 to a "significant" loss in 1984.
The deconsolidation of Ashok Leyland (the Indian subsidiary) figures last year helped cut Land Rover-Leyland International's operating profit from £18m to £10m.