Editorial In person, in court
30th March 1985
Page 6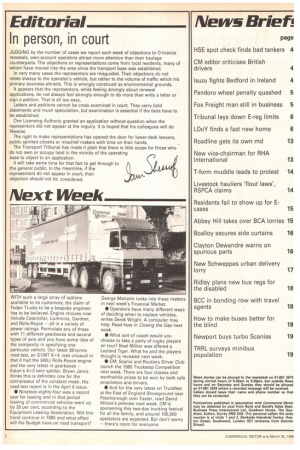 Page 6, 30th March 1985 —
Editorial In person, in court
Close
JUDGING by the number of cases we report each week of objections to 0-licence renewals, own-account operators attract more attention than their haulage counterparts. The objections or representations come from local residents, many of whom have moved into the area since the transport base was established.
In very many cases the representors are misguided. Their objections do not relate always to the operator's vehicle, but rather to the volume of traffic which his primary business attracts. This is wrongly construed as environmental grounds.
It appears that the representors, while feeling strongly about renewal applications, do not always feel strongly enough to do more than write a letter or sign a petition. That is all too easy.
Letters and petitions cannot be cross examined in court. They carry bold statements and much speculation, but examination is essential if the facts have to be established.
One Licensing Authoriy granted an application without question when the representors did not appear at the inquiry. It is hoped that his colleagues will do likewise.
The right to make representations has opened the door for lower-deck lawyers, public spirited citizens or mischief makers with time on their hands.
The Transport Tribunal has made it plain that there is little scope for those who do not own or occupy land in the vicinity of the operating base to object to an application.
It will take some time for that fact to get through to the general public. In the meantime, if the representors do not appear in court, their objection should not be considered.