Disabled moves
30th March 1985
Page 22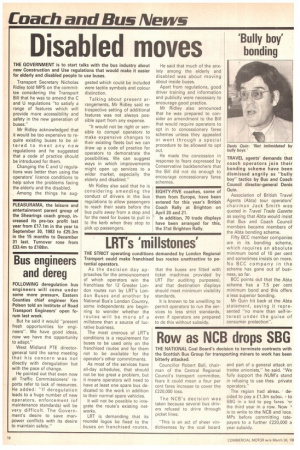 Page 22, 30th March 1985 —
Disabled moves
Close
THE GOVERNMENT is to start talks with the bus industry about new Construction and Use regulations that would make it easier for elderly and disabled people to use buses.
Transport Secretary Nicholas Ridley told MPS on the committee considering the Transport Bill that he was to amend the C and U regulations "to satisfy a range of features which will provide more accessibility and safety in the new generation of buses."
Mr Ridley acknowledged that it would be too expensive to require existing buses to be altered to meet any new regulations and he suggested that a code of practice should be introduced for them.
Changing the C and U regulations was better than using the operators' licence conditions to help solve the problems facing the elderly and the disabled.
Among the things he sug gested which could be included were tactile symbols and colour distinction.
Talking about present arrangements, Mr Ridley said retrospective setting of additional features was not always possible apart from any expense.
"It would not be right or sensible to compel operators to make expensive changes to their existing fleets but we can draw up a code of practice for operators to demonstrate the possibilities. We can suggest ways in which improvements might open up services to a wider market, especially the elderly and disabled."
Mr Ridley also said that he is considering amending the conduct of drivers in the bus regulations to allow passengers to reach their seats before the bus pulls away from a stop and for the need for buses to pull in to the kerb when they stop to pick up passengers. He said that much of the anxiety among the elderly and disabled was about moving about inside buses.
Apart from regulations, good driver training and information and publicity were necessary to encourage good practice.
Mr Ridley also announced that he was prepared to consider an amendment to the Bill that would require operators to opt in to concessionary fares schemes unless they appealed or went through a special procedure to be allowed to opt out.
He made the concession in response to fears expressed by Conservative backbenchers that the Bill did not do enough to encourage concessionary fares schemes.