Or
30th March 1985
Page 145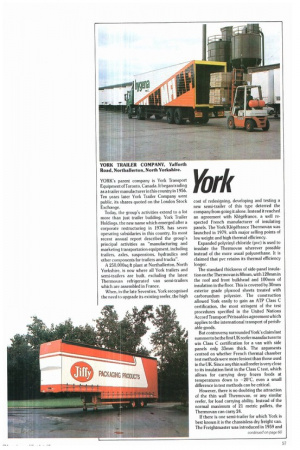 Page 148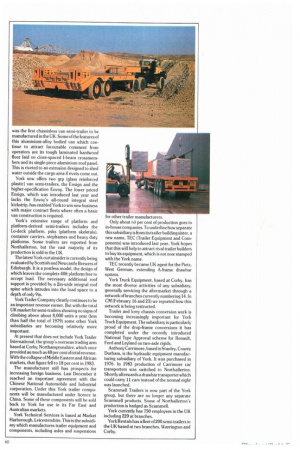 Page 145, 30th March 1985 —
Or
Close
Road, Northallerton, North Yorkshire. y YORK's parent company is York Transport Equipment of Toronto, Canada. It began trading as a trailer manufacturer in this country in 1956. Ten years later York Trailer Company went public, its shares quoted on the London Stock Exchange.
Today, the group's activities extend to a lot more than just trailer building. York Trailer Holdings, the new name which emerged after a corporate restructuring in 1978, has seven operating subsidaries in this country. Its most recent annual report described the group's principal activities as "manufacturing and marketing transportation equipment, including trailers, axles, suspensions, hydraulics and other components for trailers and trucks".
A 250,000sq ft plant at Northallerton, North Yorkshire, is now where all York trailers and semi-trailers are built, excluding the latest Thermovan refrigerated van semi-trailers which are assembled in France.
When, in the late Seventies, York recognised the need to upgrade its existing reefer, the high cost of redesigning, developing and testing a new semi-trailer of this type deterred the company from going it alone. Instead it reached an agreement with Klegefrance, a well respected French manufacturer of insulating panels. The Yorldilegefrance Thermovan was launched in 1979, with major selling points of low weight and high thermal efficiency.
Expanded polyvinyl chloride (pvc) is used to insulate the Thermovan wherever possible instead of the more usual polyurethane. It is claimed that pvc retains its thermal efficiency longer.
The standard thickness of side-panel insulation on the Thermovan is 80mm, with 120mm in the roof and front bulkhead and 100mm of insulation in the floor. This is covered by 30mm exterior grade plywood sheets treated with carborundum polyester. The construction allowed York easily to gain an ATP Class C certification, the most stringent of the test procedures specified in the United Nations Accord Transport Perissables agreement which applies to the international transport of perishable goods.
But controversy surrounded York's claim last summerto bethe first UK reefer manufacturer to win Class C certification for a van with side panels only 33mm thick. The arguments centred on whether French thermal chamber test methods were more lenient than those used in the UK. Since any thin wall reefer is very close to its insulation limit in the Class C test, which allows for carrying deep frozen foods at temperatures down to —20°C. even a small difference in test methods can be critical.
However, there is no doubting the attraction of the thin wall Thermovan, or any similar reefer, for load carrying ability. Instead of the normal maximum of 21 metric pallets, the Thermovan can carry 24.
If there is one semi-trailer for which York is best known it is the chassisless dry freight van. The Freightmaster was introduced in 1959 and
was the first chassisless van semi-trailer to be manufactured in the UK. Some oft he features of this aluminium-alloy bodied van which continue to attract favourable comment from operators are its tough laminated hardwood floor laid on close-spaced I-beam crossmembers and its single-piece aluminium roof panel. This is riveted to an extrusion designed to shed water outside the cargo area if rivets come out.
York now offers two grp (glass reinforced plastic) van semi-trailers, the Ensign and the higher-specification Envoy. The lower priced Ensign, which was introduced last year and lacks the Envoy's all-round integral steel kickstrip, has enabled York to win new business with major contract fleets where often a basic van construction is required.
York's extensive range of platform and platform-derived semi-trailers includes the Lo-deck platform, psks (platform skeletals), container carriers, stepframes and heavy duty platforms. Some trailers are exported from Northallerton, but the vast majority of its production is sold in the UK.
The latest York curt ainsider is currently being evaluated by Scottish and Newcastle Brewers of Edinburgh. It is a postless model, the design of which leaves the complete 40ft platform free to accept load. The necessary additional roof support is provided by a 2in-wide integral roof spine which intrudes into the load space to a depth of only 9in.
York Trailer Company clearly continues to be an important revenue earner. But with the total UK market for semi-trailers showing no signs of climbing above about 8,000 units a year (less than half the total of 1979) some other York subsidiaries are becoming relatively more important.
At present that does not include York Trailer International, the group's overseas trading arm based at Corby. Northamptonshire. which once provided as much as 40 per cent oftotal revenue. With the collapse of Middle Eastern and African markets, that figure fell to 18 per cent in 1983.
The manufacturer still has prospects for increasing foreign business. Last December it reached an important agreement with the Chinese National Automobile and Industrial corporation. Under this York trailer components will be manufactured under licence in China. Some of these components will be sold back to York for use in its Far East and Australian markets.
York Technical Services is based at Market Harborough, Leicestershire. This is the subsidiary which manufactures trailer equipment and components, including axles and suspensions for other trailer manufacturers.
Only about 60 per cent of production goes to in-house companies. To underline how separate this subsidiary is from its trailer building sister, a new name, TEC (Trailer Equipment and Components) was introduced last year. York hopes that this will help to attract rival trailer builders to buy its equipment, which is not now stamped with the York name.
TEC recently became UK agent for the Pietz, West German, extending A-frame drawbar System.
York Truck Equipment, based at Corby, has the most diverse activities of any subsidiary, generally servicing the aftermarket through a network of branches currently numbering 14. In CM (February 16 and 23) we reported how this network is being restructed.
Trailer and lorry chassis conversion work is becoming increasingly important for York Truck Equipment. The subsidiary is particularly proud of the drop-frame conversions it has completed under the recently introduced National Type Approval scheme for Renault, Ford and Leyland on two-axle rigids.
Ant honyCarrimore, based in Stanley, County Durham, is the hydraulic equipment manufacturing subsidiary of York. It was purchased in 1976. In 1983 production of Carrimore car transporters was switched to Northallerton. Shortly afterwards a drawbar transporter which could carry 11 cars instead of the normal eight was launched.
Scammell Trailers is now part of the York group, but there are no longer any separate Scammell products. Some of Northallerton's production is badged as Scammell.
York currently has 750 employees in the UK including 220 at branches.
York Rentals has a fleet of 200 semi-trailers in the UK based at two branches. Warrington and Corby.