Mr. Christopher Brunner
30th March 1962
Page 39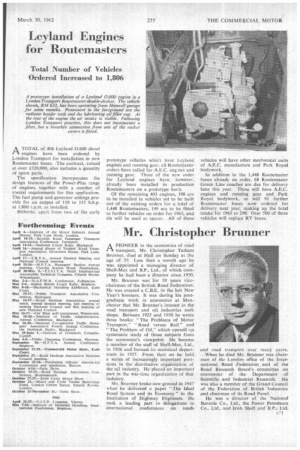 Page 39, 30th March 1962 —
Mr. Christopher Brunner
Close
A PIONEER in the economics of road rA transport, Mr. Christopher Tatham Brunner, died at Hull on Sunday at the age of 59. Less than a month ago he was appointed a managing director of Shell-Mex and B.P., Ltd., of which company he had been a director since 1950.
Mr. Brunner was for 10 years vicechairman of the British Road Federation. He was created a C.B.E. in the laSt New Year's honours. It was during his postgraduate work in economics at Manchester that Mr. Brunner's interest in the road transport and oil industries took shape. Between 1925 and 1930 he wrote three books: "The Problems of Motor Transport," "Road versus Rail" and "The Problem of Oil," which opene'd up systematic study of those subjects from the economist's viewpoint. He became a member of the staff of Shell-Mex, Ltd., in 1926 and formed its statistical deparlment in 1927. From then on he held a series of increasingly important positions in the distributive organization of the Oil industry. He played an important part in the war-time organization of that industry.
Mr. Brunner broke new ground in 1947 when he delivered a paper "The Ideal Road System and its Economy" to the Institution of Highway Engineers. He took a leading part in delegations to international conferences on roads
and road transport over, many years.
• When he died Mr. Brunner was chairman of the London office of the International Road Federation and of the Road Research Board's committee on economics' of the Department of Scientific and Industrial Research. He was alSo a member-of-the Grand Council of the Federation 'of British Industries and chairman of its Road Panel.
He was a director of the National Benzole Co., Ltd., the Power Petroleum Co., Ltd., and Irish Shell and B.P.; Ltd. r