RHA and FTA disagree on longer-semis proposal
30th June 2011
Page 7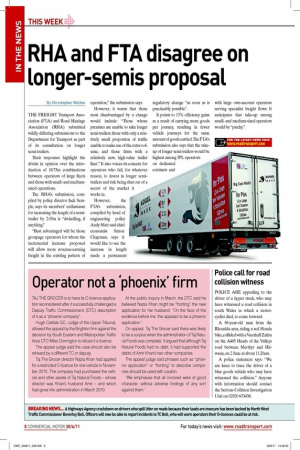 Page 7, 30th June 2011 —
RHA and FTA disagree on longer-semis proposal
Close
By Christopher Walton THE FREIGHT Transport Association (FTA) and Road Haulage Association (RHA) submitted wildly differing submissions to the Department for Transport as part of its consultation on longer semi-trailers.
Their responses highlight the divide in opinion over the introduction of 18.75m combinations between operators of large leets and those with smalland mediumsized operations.
The RHA's submission, compiled by policy director Jack Semple, says its members' enthusiasm for increasing the length of a semitrailer by 2.05m is "dwindling, if anything".
"Best advantaged will be those groupage operators for whom the incremental increase proposed will allow more revenue-earning freight in the existing pattern of operation," the submission says.
However, it warns that those most disadvantaged by a change would include: "Those whose premises are unable to take longer semi-trailers; those with only a relatively small proportion of trafic unable to make use of the extra volume; and those irms with a relatively new, high-value trailer leet." It also voices its concern for operators who fail, for whatever reason, to invest in longer semitrailers and risk being shut out of a sector of the market it works in.
However, the FTA's submission, compiled by head of engineering policy Andy Mair and chief economist Simon Chapman, says it would like to see the increase in length made a permanent regulatory change "as soon as is practicably possible".
It points to 13% eficiency gains as a result of carrying more goods per journey, resulting in fewer vehicle journeys for the same amount of goods carried. The FTA's submission also says that the takeup of longer semi-trailers would be highest among 3PL operators on dedicated contracts and with large own-account operators serving specialist freight lows. It anticipates that take-up among smalland medium-sized operators would be "patchy".