New truckstops will improve driver safety
30th June 2011
Page 5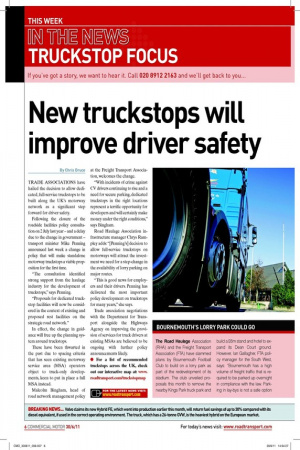 Page 5, 30th June 2011 —
New truckstops will improve driver safety
Close
Keywords :
Transport
,
Land Transport
,
Diners
,
Road Transport
,
Truck Stop
,
Types Of Roads
,
Truck Driver
,
Motorway Service Area
,
Rest Area
,
Motorways In The Republic Of Ireland
,
Controlled-access Highway
By Chris Druce TRADE ASSOCIATIONS have hailed the decision to allow dedicated, full-service truckstops to be built along the UK's motorway network as a signiicant step forward for driver safety.
Following the closure of the roadside facilities policy consultation on 2 July last year – and a delay due to the change in government – transport minister Mike Penning announced last week a change in policy that will make standalone motorway truckstops a viable proposition for the irst time.
"The consultation identiied strong support from the haulage industry for the development of truckstops," says Penning.
"Proposals for dedicated truckstop facilities will now be considered in the context of existing and proposed rest facilities on the strategic road network." In effect, the change in guidance will free up the planning system around truckstops.
These have been thwarted in the past due to spacing criteria that has seen existing motorway service area (MSA) operators object to truck-only developments, keen to put in place a full MSA instead.
Malcolm Bingham, head of road network management policy at the Freight Transport Association, welcomes the change.
"With incidents of crime against CV drivers continuing to rise and a need for secure parking, dedicated truckstops in the right locations represent a terriic opportunity for developers and will certainly make money under the right conditions," says Bingham.
Road Haulage Association infrastructure manager Chrys Rampley adds: "[Penning's] decision to allow full-service truckstops on motorways will attract the investment we need for a step-change in the availability of lorry parking on major routes.
"This is good news for employers and their drivers. Penning has delivered the most important policy development on truckstops for many years," she says.
Trade association negotiations with the Department for Transport alongside the Highways Agency on improving the provision of services for truck drivers at existing MSAs are believed to be ongoing with further policy announcements likely.
● For a list of recommended truckstops across the UK, check out our interactive map at: www. roadtransport.com/truckstopmap