Applications and decisions
30th June 2011
Page 19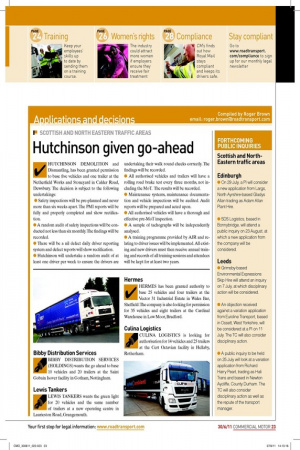 Page 19, 30th June 2011 —
Applications and decisions
Close
SCOTTISH AND NORTH EASTERN TRAFFIC AREAS
Hutchinson given go-ahead
HUTCHINSON DEMOLITION and Dismantling, has been granted permission to base ive vehicles and one trailer at the Netherield Works and Stoneyard in Calder Road, Dewsbury. The decision is subject to the following undertakings: ● Safety inspections will be pre-planned and never more than six weeks apart. The PMI reports will be fully and properly completed and show rectiication.
● A random audit of safety inspections will be conducted not less than six monthly. The indings will be recorded.
● There will be a nil defect daily driver reporting system and defect reports will show rectiication.
● Hutchinson will undertake a random audit of at least one driver per week to ensure the drivers are undertaking their walk round checks correctly. The indings will be recorded.
● All authorised vehicles and trailers will have a rolling road brake test every three months, not including the MoT. The results will be recorded.
● Maintenance systems, maintenance documentation and vehicle inspections will be audited. Audit reports will be prepared and acted upon.
● All authorised vehicles will have a thorough and effective pre-MoT inspection.
● A sample of tachographs will be independently analysed.
● A training programme provided by AJR and relating to driver issues will be implemented. All existing and new drivers must then receive annual training and records of all training sessions and attendees will be kept for at least two years.