LETTER OF THE WEEK
30th June 2011
Page 17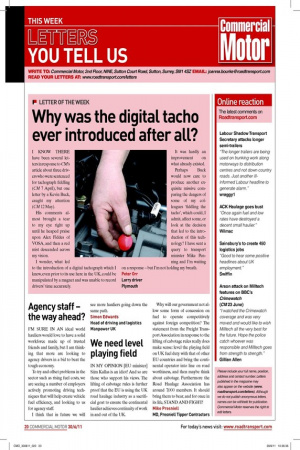 Page 17, 30th June 2011 —
LETTER OF THE WEEK
Close
Keywords :
Transport
,
Land Transport
,
Traffic Law
,
Trucks
,
Road Safety
,
Road Transport
,
Tachograph
,
Digital Tachograph
,
Vehicle And Operator Services Agency
,
Fiddes
,
Tacho People
,
Truck Driver
Why was the digital tacho ever introduced after all?
I KNOW THERE have been several letters in response to CM's article about three drivers who were sentenced for tachograph iddling (CM 7 April), but one letter by a Kevin Buck, caught my attention (CM 12 May).
His comments almost brought a tear to my eye right up until he heaped praise upon Alex Fiddes of VOSA, and then a red mist descended across my vision.
I wonder, what led to the introduction of a digital tachograph which I knew, even prior to its use here in the UK, could be manipulated by a magnet and was unable to record drivers' time accurately. It was hardly an improvement on what already existed.
Perhaps Buck would now care to produce another exquisite missive comparing the dangers of some of my colleagues 'iddling the tacho' , which could, I admit, affect some, or look at the decision that led to the introduction of this technology? I have sent a query to transport minister Mike Penning and I'm waiting on a response – but I'm not holding my breath. Peter Orr Lorry driver Plymouth