20,000 Electric Trucks in Germany ?
30th June 1944
Page 28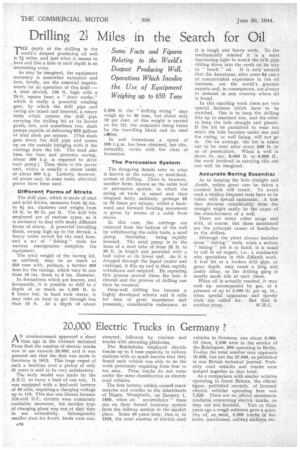 Page 28, 30th June 1944 —
20,000 Electric Trucks in Germany ?
Close
AN announcement appeared a short time ago in the German technical Press that the number of electric trucks now in use exceeds 20,000, and it was pointed out that the first was made in Germany in 1913. This large ouput of
• such a machine over a period of only 31 years is said to be very satisfactory.
The early model was made by the A.E.G. to carry a load of one ton. It was equipped with a lead-acid battery of 40 cells, requiring, a charging voltage up to 110. This size was Chosen because 110-volt D.C. circuits were commonly available; moreover, the rectifier type iaf charging plant was not at that time in use extensively. Subsequently smaller sizes for 5-cwt. loads were con
structed, followed by tractors and trucks with elevating platforms.
The Reichsbahn employed electric trucks up to 2 tons capacity in railway stations with so much success that they found each vehicle was able to do the work previously requiring from four to ten .men. These trucks do not come under the same classification as electric road vehicles.
The first battery vehicle caused much surprise and wonder to the inhabitants of Hagen, Westphalia, on January I, 1895, when an ' accumulator" train ran on their horsed tramway system from the railway station to the market place. Some 40 years later, that is, in 1935, the total number of electric road vehicles in Germany was about 5,000. Of these, 2,500 were in the service of the Reichspost, 800 operating in Berlin. To-day the total number may approach 10,000, but not the 27,000, as published in one British technical journal. Probably road vehicles and trucks were lumped together in that total.
As a comparison with similar vehicles operating in Great Britain, the official figure, published recently, of licensed electric vehicles operating here was 7,626. There Are no official statements available concerning electric trucks, as they are not licensed. Two or three years ago a rough estimate gave a quantity of, at most, 5,000 trucks in factories, warehouses, railway stations, etc.