One Hears
30th June 1944
Page 17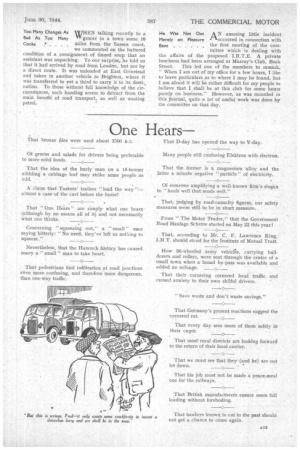 Page 17, 30th June 1944 —
One Hears
Close
That bronze files were used about 1500 B.c.
Of greens and salads for drivers being preferable to more solid foods.
'That the idea of the burly man on a 15-tonner nibbling a cabbage leaf may strike some people as odd.
A claim that Taskers' trailers "lead the way "— almost a case of the cart before the horse!
That "One Heirs" are simply what one hears (although by no means all of it) and not necessarily what one thinks.
Concerning "squeezing out," a "small" man saying bitterly: "No need, they've left us nothing to squeeze."
Nevertheless, that the Hancock history has caused many a " small " man to take heart.
That pedestrians find infiltration at road junctions ei en more confusing, and therefore more dangerous. than one-way traffic. • That D-day has opened the way to V-day.
Many people still confusing Elektron with electron.
That the former is a magnesium 'alloy and the latter a minute negative " particle " of electricity.
Of iomeohe amplifying a well-known firm's slogan to " hauls well that sends well."
• That, judging by road-casualty figures, our safety measures seem still to be in short measure.
From "The Motor Trader," that the Government Road Haulage Scheme started on May 22 this year !
That, according to Mr. C. F. Lawrence King, I.M.T. should stand for the Institute of Mutual Trust.
How 30-wheeled army vehicles, carrying bulldozers and rollers, were sent through the centre of a small town when a broad by-pass was available and added no mileage.
That their cornering cornered local traffic and caused anxiety to their own skilful drivers.
"Save waste and don't waste savings."
That Germany's present reactions suggest the cornered rat. • That every day sees more of them safely in their cages.
That most rural districts are looking forward to the return of their local carrier.
That we mist see that they' (and he) are not let down.
That his job must not be made a peace-meal one for the railways.
That British manufacturers ensure users full loading without foreboding. "
That hauliers known to cut in the past should not get a chance to come again.