British Machines for Overseas Markets
30th June 1944
Page 16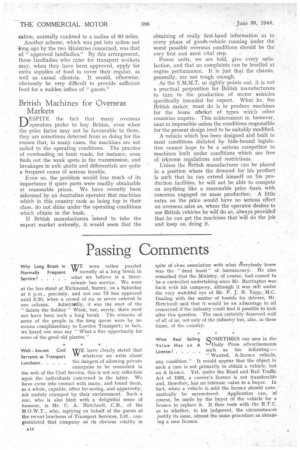 Page 16, 30th June 1944 —
British Machines for Overseas Markets
Close
DESPITE the fact that many overseas operators prefer to buy British, even when the price factor may not be favourable to them, they are sometimes deterred from so doing for the reason that, in many cases, the machines are not suited to the operating conditions. The practice of overloading on bush roads, for instance, soon finds out the weak spots in the transmission, and breakages in axle shafts and differentials are quite a frequent cause Of serious trouble.
Even so, the problem would lose much of its importance if spare parts were readily obtainable at reasonable prices. We have recently been informed by an Australian operator that machines which in this country rank as being top in their class, do not shine under the operating conditions which obtain in the bush.
If British manufacturers intend to take the export market seriously, it would seem that the obtaining of really first-hand information as to every phase of goods-vehicle running under the worst possible overseas conditions should be the very first and most vital step.
Power units, we are told, give every satisfaction, and that no complaints can be levelled at engine performance. It is just that the chassis, generally, are not tough enough.
As the S.M.M.T. so rightly points out, it is not a practical proposition for British manufacturers to turn to the production of motor vehicles specifically intended for export. What he, the British maker, must do is to produce machines for the home irrarket of types which other countries require. This achievement is, however, next to impossible unless the conditions responsible for the present design tend to be suitably modified.
A vehicle which has been designed and built to meet conditions dictated by hide-bound legislation cannot hope to be a serious competitor to machines built under, conditions which are free of-irksome regulations and restrictions.
Unless the British manufacturer can be placed in a position where the demand for his product is such that he can extend himself on his production facilities, he will not be able to compete on anything like a reasonable price -basis with concerns engaged on mass production. A little extra on the price would have no serious effect on overseas sales as, where the operator desires to use British vehicles he will do so, always provided that he can get the machines that will do the job and keep on doing it.