road and
30th July 1971
Page 48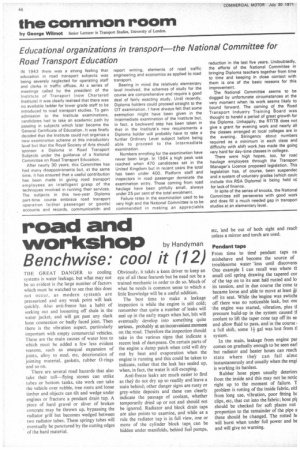 Page 48, 30th July 1971 —
road and
Close
workshop by Handyman
Benchwise: cool it (12)
THE GREAT DANGER to cooling systems is water leakage, but what may not be so evident is the large number of factors which must be watched to see that this does not occur, as modern systenis are pressurized and any weak point will leak quickly. Also anti-freeze has a habit of seeking out and loosening off shale in the water jacket, and will get past any slack hose connection or badly faced joint. Then there is the vibration aspect, particularly important with empty commercial vehicles. These are the main causes of water loss to which must be added a few less evident reasons, such as unequal expansion of joints, alloy to steel, etc, deterioration of jointing material, gaskets, rubber 0-rings and so on.
There are several road hazards that also take their toll—flying stones can strike tubes or bottom tanks, site work can take the vehicle over rubble, tree roots and loose timber and objects can tilt and wedge under engines or fracture a pendant drain tap. A piece of hard gravel or sliver of broken concrete may be thrown up, bypassing the radiator grill but becomes wedged between two radiator tubes. These springy tubes will eventually be punctured by the cutting edges of the hard material.
Obviously, it takes a keen driver to keep an eye of all these features but he need not be a trained mechanic in order to do so. Much of what he needs is common sense to which a little knowledge will be a useful addition.
The best time to make a leakage inspection is while the engine is still cold; remember that quite a number of leaks will seal up in the early stages when hot, bCit will eventually develop into something quite serious, probably at an inconvenient moment on the road. Therefore the inspection should take in the various signs that indicate a recent leak of dampness. On certain parts of the engine a damp patch when cold will dry out by heat and evaporation when the engine is running and this could be taken to indicate, rather that the leak has sealed up, when, in fact, the water is still escaping.
Anti-freeze leaks are much easier to find as theY do not dry up so readily and leave a stain behind; other danger signs are rusty or grey-white deposits and these can clearly indicate the passage of coolant, whether temporarily dried up or not and should not be ignored. Radiator and block drain taps are also points to examine, and while as a rule the radiator tap is in full view, one or more of the cylinder block taps can be hidden under manifolds, behind fuel pumps,
etc, 'and be out of both sight and reach unless a mirror and torch are used.
Pendant taps
From time to timd pendant taps ca misbehave and become the source of troublesome water 'loss until discovere( One example I can recall was where ti small coil spring drawing the tapered cor of the tap on to its seat hid rusted and lo its tension, and in due course the 'cone ta became loose and able to move at least ail off its seat. While the 'engine was switchc off there was no noticeable leak, but onc the engine was started, vibration, plus ti pressure build-up in the system caused ti coolant to lift the taper cone tap off its se, and allow fluid to pass, and in the course a full shift, some 14 gal was lost from tl system.
In the main, leakage from engine pat comes on gradually enough to be seen earl but radiator and heater hoses can reach state where they can fail almo instantaneously and usually when the engi is working its hardest.
Rubber hose pipes usually deteriorE from the inside and this may not be notic right up to the moment of failure. T problem is rotting of the inside fabric, eitl from long use, vibration, poor fitting hc clips, etc, that cut into the fabric; hose pii should be checked for soft places out proportion to the remainder of the pipe a these should be changed. The rotted In will burst when under full power and he and will give no warning.