Controlling transport
30th July 1971
Page 32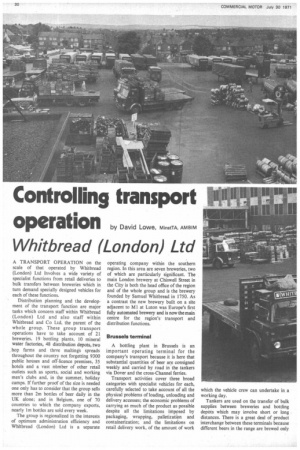 Page 33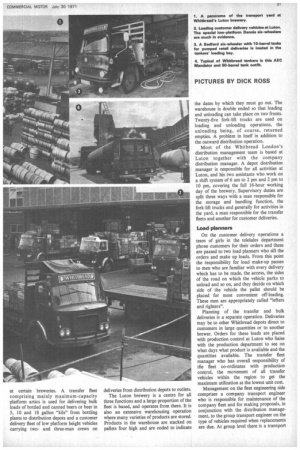 Page 34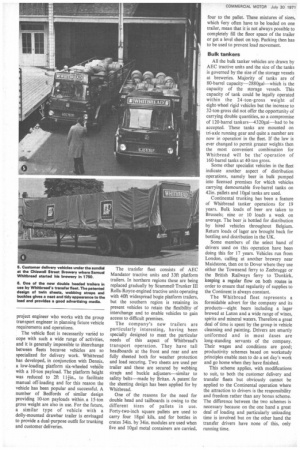 Page 32, 30th July 1971 —
Controlling transport
Close
operation by David Lowe, MinstTA, AM BIM
Whitbread (London) Ltd
A TRANSPORT OPERATION on the scale of that operated by Whitbread (London) Ltd Involves a wide variety of specialist functions from retail deliveries to bulk transfers between breweries which in turn demand specially designed vehicles for each of these functions.
Distribution planning and the development of the transport function are major tasks which concern staff within Whitbread (London) Ltd and also staff within Whitbread and Co Ltd, the parent of the whole group. These group transport operations have to take account of 21 breweries, 19 bottling plants, 10 mineral water factories, 48 distribution depots, two hop farms and three maltings spreads throughout the country not forgetting 9300 public houses and off-licence premises, 35 hotels and a vast ntmber of other retail outlets such as sports, social and working men's clubs and, in the summer, holiday camps. If further proof of the size is needed one only has to consider that the group sells more than 2m bottles of beer daily in the UK alone; and in Belgium, one of 70 countries to which the company exports, nearly 1m bottles are sold every week.
The group is regionalized in the interests of optimum administration efficiency and Whitbread (London) Ltd is a separate operating company within the southern region. In this area are seven breweries, two of which are particularly significant. The main London brewery at Chiswell Street in the City is both the head office of the region and of the whole group and is the brewery founded by Samuel Whitbread in 1750. As a contrast the new brewery built on a site adjacent to M1 at Luton was Europe's first fully automated brewery and is now the main centre for the region's transport and distribution functions.
Brussels terminal A bottling plant in Brussels is an important operating terminal for the company's transport because it is here that substantial quantities of beer are consigned weekly and carried by road in the tankers via Dover and the cross-Channel ferries.
Transport activities cover three broad categories with specialist vehicles for each, carefully selected to take account of all the physical problems of loading, unloading and delivery accesses; the economic problems of carrying as much of the product as possible despite all the limitations irmosed by packaging, wrapping, palletizatiOn and containerization; and the limitations on retail delivery work, of the amount of work which the vehicle crew can undertake in a working day.
Tankers are used on the transfer of bulk supplies between breweries and bottling depots which may involve short or long distances. There is a great deal of product interchange between these terminals because different beers in the range are brewed only at certain breweries. A transfer fleet comprising mainly maximum-capacity platform artics is used for delivering bulk loads of bottled and canned beers or beer in 5, 10 and 18 gallon "kils" from bottling plants to distribution depots and a customer delivery fleet of low platform height vehicles carrying twoand three-man crews on deliveries from distribution depots to outlets.
The Luton brewery is a centre for all three functions and a large proportion of the fleet is based, and operates from there. It is also an extensive warehousing operation where many varieties of products are stored. Products in the warehouse are stacked on pallets four high and are coded to indicate the dates by which they must go out. The warehouse is double ended so that loading and unloading can take place on two fronts. Twenty-five fork-lift trucks are used on loading and unloading operations, the unloading being, of course, returned empties. A problem in itself in addition to the outward distribution operation.
Most of the Whitbread London's distribution management team is based at Luton together with the company distribution manager. A depot distribution manager is responsible for all activities at Luton, and his two assistants who work on a shift system of 6 am to 2 pm and 2 pm to 10 pm, covering the full 16-hour working day of the brewery. Supervisory duties are split three ways with a man responsible for the storage and handling function, the fork-lift trucks and generally for activities in the yard, a man responsible for the transfer fleets and another for customer deliveries.
Load planners
On the customer delivery operations a team of girls in the teleSales department phone customers for their orders and these are passed to two load planners who sift the orders and make up loads. From this point the responsibility for load make-up passes to men who are familiar with every delivery which has to be made, the access, the sides of the road on which the vehicle parks to unload and so on, and they decide on which side of the vehicle the pallet should be placed for most convenient offloading. These men are appropriately called "lefters and righters".
Planning of the transfer and bulk deliveries is a separate operation. Deliveries may be to other Whitbread depots direct to customers in large quantities or to another brewer. Orders for these loads are placed with production control at Luton who liaise with the production department to see on what days what product is available and the quantities available. The transfer fleet manager who has overall responsibility of the fleet co-ordinates with production control, the movement of all transfer vehicles within the region to get the maximum utilization at the lowest unit cost.
Management on the fleet engineering side comprises a company transport engineer who is responsible for maintenance of the company fleet and for making proposals, in conjunction with the distribution management, to the group transport engineer on the type of vehicles required when replacements are due. At group level there is a transport project engineer who works with the group transport engineer in planning future vehicle requirements and operations.
The vehicle fleet is necessarily varied to cope with such a wide range of activities, and it is generally impossible to interchange between fleets because vehicles are so specialized for delivery work. Whitbread has developed, in conjunction with Dennis, a low-loading platform six-wheeled vehiCle with a 10-ton payload. The platform height was reduced to 2ft 1 to facilitate manual off-loading and for this reason the vehicle has been popular and successful. A number of Bedfords of similar design providing 10-ton payloads within. a 15-ton gross weight are also in use. For the future, a similar type of vehicle with a dolly-mounted drawbar trailer is envisaged to provide a dual-purpose outfit for trunking and customer deliveries.
The transfer fleet consists of AEC Mandator tractive units and 33ft platform trailers. In northern regions these are being replaced gradually by Scammell Trunker III Rolls-Royce-engined tractive units operating with 40ft widespread bogie platform trailers, but the southern region is retaining its present vehicles to retain the flexibility of interchange and to enable vehicles to gain access to difficult premises.
The company's new trailers are particularly interesting, having been specially designed to meet the particular needs of this aspect of Whitbread's transport operation. They have tall headboards at the front and rear and are fully sheeted both for weather protection and load securing. Two sheets are used per trailer and these are secured by webbing straps and buckle adjusters—similar to safety belts—made by Britax. A patent for the sheeting design has been applied for by Whitbread.
One of the reasons for the need for double head and tailboards is owing to the different 'sizes of pallets in use. Forty-two-inch square pallets are used to carry four 18gal kils, and for bottles in crates 34in. by 34in, modules are used when five and lOgal metal containers are carried, four to the pallet. These mixtures of sizes, which •Oery often have to be loaded on one trailer, mean that it is not always possible to completely fill the floor space of the trailer or get a level sheet on top. Packing then has to be used to prevent load movement.
Bulk tankers All the bulk tanker vehicles are drawn by AEC tractive units and the size of the tanks is governed by the size of the storage vessels at breweries. Majority of tanks are of 80-barrel capacity-2880ga1--which is the capacity of the storage vessels. This capacity of tank could be legally operated within the 24-ton-gross weight of eight-wheel rigid vehicles but the increase to 32-ton-gross did not offer the opportunity of carrying double quantities, so a compromise of 120-barrel tankers-4320gal—had to be accepted. These tanks are mounted on tri-axle running gear and quite a number are now in operation in the fleet. If the law is ever changed to permit greater weights then the most convenient combination for Whitbread will be the' operation of 160-barrel tanks at 40-ton gross.
Some other specialist vehicles in the fleet indicate another aspect of distribution operations, namely beer in bulk pumped into licensed premises for which vehicles carrying demountable five-barrel tanks on 42in. Pallets and lOgal tanks are used.
Continental trunking has been a feature of Whitbread tanker operations for 19 years. Bulk loads of beer are taken to Brussels; nine or 10 loads a week on average. The beer is bottled for distribution by hired vehicles throughout Belgium. Return loads of lager are brought back for bottling and distribution in the UK.
Some members of the select band of drivers used on this operation have been doing this for 17 years. Vehicles run from London, calling at another brewery near Maidstone, then on to Dover where they use either the Townsend ferry to Zeebrugge or the British Railways ferry to Dunkirk, keeping a regular flow on both routes in order to ensure that regularity of supplies to the Continent is always constant.
The Whitbread fleet represents a formidable advert for the company and its products—eight beers including a lager brewed at Luton and a wide range of wines, spirits and mineral waters. Therefore a great deal of time is spent by the group in vehicle cleansing and painting. Drivers are smartly uniformed and in most Cases are long-standing servants of the company. Their wages and conditions are good; productivity schemes based on workstudy principles enable men to do a set day's work and go home when they have finished.
This scheme applies, with modifications to suit, to both the customer delivery and transfer fleets but obviously cannot be applied to the Continental operation where the attraction to drivers is the responsibility and freedom rather than any bonus scheme. The difference between the two schemes is necessary because on the one hand a great deal' of loading and particularly unloading time is involved but on the other hand the transfer drivers have none of this, only running time.