William Bridge
30th July 1971
Page 30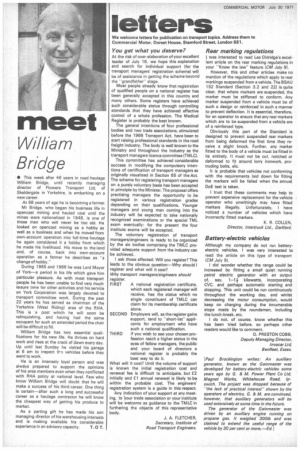 Page 30, 30th July 1971 —
William Bridge
Close
• This week after 46 years in road haulage William Bridge, until recently managing director of Flowers Transport Ltd, of Skeldergate in Yorkshire, is embarking on a new career.
At 68 years of age he is becoming a farmer.
Mr Bridge, who began his business life in opencast mining and hauled coal until the mines were nationalized in 1946, is one of those men who will never be too old. He looked on opencast mining as a hobby as well as a business and when he moved from own-account operation into full-time haulage he again considered it a hobby from which he made his livelihood. His move to the land and, of course, back into own-account operation as a farmer he describes as ''a change of hobby."
During 1965 and 1966 he was Lord Mayor of York—a period in his life which gave him particular pleasure. As with most transport people he has been unable to find very much leisure time tor other activities and his service on York Corporation was largely devoted to transport committee work. During the past 22 years he has served as chairman of the Yorkshire (West Riding) area of the RHA. This is a post which he will soon be relinquishing, and having had the same occupant for such an extended period the chair will be difficult to fill.
William Bridge has two essential qualifications for his new life He thrives on hard work and rises at the crack of dawn every day. Up until last Sunday he visited his garage at 6 am to inspect tha vehicles before they went to work.
He is an intensely loyal person and was always prepared to support the opinions of his area members even when they conflicted with RHA policy at national level. Few who know William Bridge will doubt that he will make a success of his third career. One thing is certain—after such a long and successful career as a haulage contractor he will know the cheapest way of getting his produce to market.
As a parting gift he has made his son managing director of his warehousing interests and is making available his considerable experience in an advisory capacity. T. 0 T.