letters
30th July 1971
Page 30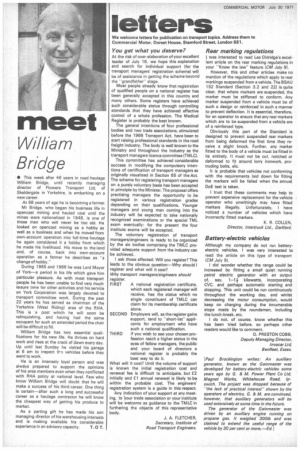 Page 30, 30th July 1971 —
letters
Close
We welcome letters for publication on transport topics. Address them to Commercial Motor, Dorset House, Stamford Street London SE1.
You get what you deserve?
At the risk of over-elaboration of your excellent leader of July 16, we hope this explanation and search for individual support (for the transport managers' registration scheme) will be of assistance in getting the scheme beyond the "grandfather" stage.
Most people already know that registration of qualified people on a national register has been generally accepted in this country and many others. Some registers have achieved such considerable status through controlling standards that they have achieved effective control of a whole profession. The Medical Register is probably the best known.
The general intentions of four professional bodies and two trade associations, stimulated before the 1968 Transport Act, have been to start raising professional standards in the road freight industry. The body is well known to the Ministry and throughout the Industry as the transport managers licence committee (TMLC).
This committee has achieved considerable success in modifying the compulsory intentions of certification of transport managers as originally visualized in Section 65 of the Act. The scheme for registering transport managers on a purely voluntary basis has been accepted in principle by the Minister. The proposal offers practising managers the opportunity to be registered in various registration grades depending on their qualifications. Younger managers and young men coming into the industry will be expected to take nationally recognized examinations or the special TML exam eventually: for the present the four institute exams will be accepted.
The voluntary registration of transport managers/engineers is ready to be organized by the six bodies comprising the TMLC provided adequate support from the industry can be achieved.
I ask those affected: Will you register? This leads to the obvious question—Why should I register and what will it cost?
Why transport managers/engineers should register.
FIRST A national registration certificate, which each registered manager will receive, has the status which no single constituent of TMLC can claim for its membership certificate alone.
SECOND Employers will, as the register gains support, tend to "short-list" applicants for employment who have such a national qualification.
THIRD If you wish to see your chosen pro fession reach a higher status in the eyes of fellow managers, the public and your board of directors a national register is probably the best way to do it.
What will it cost? Until the volume of support is known the initial registration cost and renewal fee is difficult to anticipate, but £2 initially and £1 annual renewal is likely to be. within the probable cost. The engineers' registration system is a guide in this respect.
Any indication of your support at any meeting, to Vour trade association or your institute will be welcome as guidance to the TM LC in furthering the objects of this representative body.
J. A. FLETCHER, Secretary, Institute of Road Transport Engineers.
Rear marking regulations
I was interested to read Les Oldridge's excellent article on the rear marking regulations in your -Know the law" feature (CM July 9).
However, this and other articles make no mention of the regulations which apply to rear markings suspended from a vehicle. The BSAU 152 Standard (Section 3.2 and 22) is quite clear, that where markers are suspended, the marker must be stiffened to conform. Any marker suspended from a vehicle must be of such a design or reinforced in such a manner to prevent deflection. It is essential, therefore, for an operator to ensure that any rear markers which are to be suspended from a vehicle are of a reinforced type.
Obviously this part of the Standard is designed to prevent suspended rear markers from being deformed the first time they receive a slight knock. Further, any marker fitted to the body of a vehicle must be fitted in its entirety. ft must not be cut, notched or deformed to fit around lorry ironwork, protruding bolts, etc.
It is probable that vehicles not conforming with the requirements laid down for fitting the markers will be failed when the annual DoE test is taken.
I trust that these comments may help to prevent expensive replacement for the vehicle operator who unwittingly may have fitted markers illegally. Unfortunately, I have noticed a number of vehicles which have incorrectly fitted markers.
K. R. COLLEN, Director, Intertruck Ltd., Dartford.
Battery-electric vehicles
Although my company do not run batteryelectric vehicles, I was very interested to read the article on this type of transport (CM July 9).
I did wonder whether the range could be increased by fitting a small quiet. running petrol electric generator with an output of, say, 1-1-i kilowatts. incorporating CVC, and perhaps automatic starting and stopping. This unit could be run continuously throughout the working day, and whilst decreasing the motor consumption, would keep on charging during the innumerable stops made by the roundsmen, including the lunch-break, etc.
I do not, of course, know whether this has been tried before, so perhaps other readers would like to comment.
D. PRESTON COBB, Deputy Managing Director, Invacar Ltd, Benfleet, Essex [Paul Brockington writes: An auxiliary generator, known as the Gainmaster was developed for battery-electric vehicles some years ago by G. & M. Power Plant Co Ltd, Magnet Works, Whitehouse Road, Ipswich. The project was dropped because of "the lack of practical interest" shown by the operators of electrics. G. & M. are convinced, however, that auxiliary generators will be used extensively at some time in the future.
The generator of the Gainmaster was driven by an auxiliary engine running on propane gas. It weighed 300Ib and was claimed to extend the useful range of the vehicle by 30 per cent or more.—Ed. I