Bulk tipper of 85 cubic yards capacity
30th July 1971
Page 23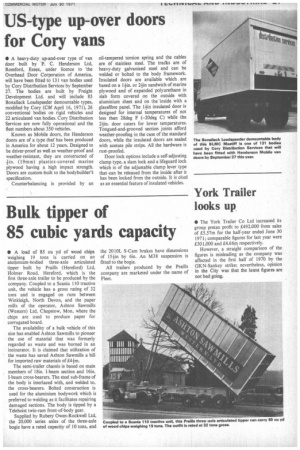 Page 23, 30th July 1971 —
Bulk tipper of 85 cubic yards capacity
Close
• A load of 85 cu yd of wood chips weighing 19 tons is carried on an aluminium-bodied three-axle articulated tipper built by Praills (Hereford) Ltd, Holmer Road, Hereford. which is the first three-axle trailer to be produced by the company. Coupled to a Scania 110 tractive unit, the vehicle has a gross rating of 32 tons and is engaged on runs between Winkleigh, North Devon, and the paper mills of the operator, Ashton Sawmills (Western) Ltd. Chepstow, Mon, where the chips are used to produce paper for corrugated board.
The availability of a bulk vehicle of this size has enabled Ashton Sawmills to pioneer the use of material that was formerly regarded as waste and was burned in an incinerator. It is claimed that utilization of the waste has saved Ashton Sawmills a bill for imported raw materials of £4-12-m.
The semi-trailer chassis is based on main members of 18in. 1-beam section and 16in. I-beam cross-bearers. The steel sub-frame of the body is interlaced with, and welded to. the cross-bearers. Bolted construction is used for the aluminium bodywork which is preferred to welding as it facilitates repairing damaged sections. The body is tipped by a Telehoist twin-ram front-of-body gear.
Supplied by Rubery Owen-Rockwell Ltd, the 20,000 series axles of the three-axle bogie have a rated capacity of 10 tons, and the 2010L S-Cam brakes have dimensions of 154-in by 6in. An M38 suspension is fitted to the bogie.
All trailers produced by the Praills company are marketed under the name of Fleet.