After effects of court action
30th July 1971
Page 22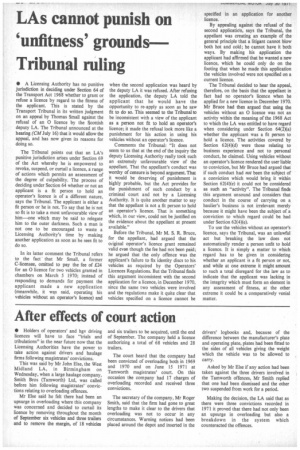 Page 22, 30th July 1971 —
After effects of court action
Close
• Holders of operators' and hgv driving licences will have to face "trials and tribulations" in the near future now that the Licensing Authorities have the power to take action against drivers and haulage firms following magistrates' convictions.
This was said by Mr John Else, the West Midland LA, in Birmingham on Wednesday, when a large haulage company, Smith Bros (Tamworth) Ltd, was called before him following magistrates' convictions relating to overloading offences.
Mr Else said he felt there had been an upsurge in overloading where this company was concerned and decided to curtail its licence by removing throughout the month of September six vehicles and three trailers and to remove the margin, of 18 vehicles and six trailers to be acquired, until the end of September. The company held a licence authorizing a total of 68 vehicles and 28 trailers.
The court heard that the company had been convicted of overloading both in 1969 and 1970 and on June 15 1971 at Tamworth magistrates' court. On this occasion tke company had 17 charges of overloading recorded and received three convictions.
The secretary of the company, Mr Roger Smith, said that the firm had gone to great lengths to make it clear to the drivers that overloading was not to occur in any circumstances. Warning notices had been placed around the depot and inserted in the drivers' logbooks and, because of the difference between the manufacturer's plate and operating plate, plates had been fitted to the sides of all vehicles giving the weight which the vehicle was to be allowed to carry.
Asked by Mr Else if any action had been taken against the three drivers involved in the Tamworth offences, Mr Smith replied that one had been dismissed and the other two suspended from work for a period.
Making the decision, the LA said that as there were three convictions recorded in 1971 it proved that there had not only been an upsurge in overloading but also a breakdown in the system which counteracted the offences.