Plaistow Section 69 inquiry adjourned
30th July 1971
Page 21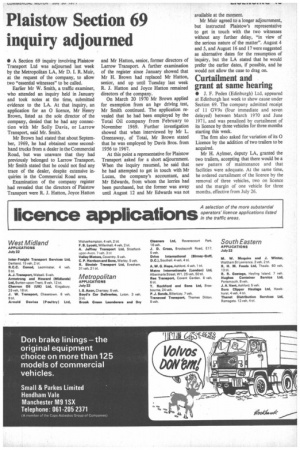 Page 21, 30th July 1971 —
Plaistow Section 69 inquiry adjourned
Close
Keywords :
• A Section 69 inquiry involving Plaistow Transport Ltd was adjourned last week by the Metropolitan LA, Mr D. I. R. Muir, at the request of the company, to allow two "essential witnesses" to be called.
Earlier Mr W. Smith, a traffic examiner, who attended an inquiry held in January and took notes at the time, submitted evidence to the LA. At that inquiry, an application for an 0 licence, Mr Henry Brown, listed as the sole director of the company, denied that he had any connection with Mr Solly Davis, or Larrow Transport, said Mr. Smith.
Mr Brown had stated that about September, 1969, he had obtained some secondhand trucks from a dealer in the Commercial Road, but was unaware that they had previously belonged to Larrow Transport. Mr Smith stated that he could not find any trace of the dealer, despite extensive inquiries in the Commercial Road area.
Examination of the company register had revealed that the directors of Plaistow Transport were R. J. Hatton, Joyce Hatton and Mr Hatton, senior, former directors of Larrow Transport. A further examination of the register since January showed that Mr H. Brown had replaced Mr Hatton, senior, and up until Tuesday last week R. J. Hatton and Joyce Hatton remained directors of the company.
On March 20 1970 Mr Brown applied for exemption from an hgv driving test, Mr Smith continued. The application revealed that he had been employed by the Total Oil company from February to November 1969. Further investigation showed that when interviewed by Mr L. Greenaway, of Total, Mr Brown stated that he was employed by Davis Bros. from 1956 to 1967.
At this point a representative for Plaistow Transport asked for a short adjournment. When the inquiry resumed, he said that he had attempted to get in touch with Mr Lucas, the company's accountant, and Mr Edwards, from whom the lorries had been purchased, but the former was away until August 12 and Mr Edwards was not available at the moment.
Mr Muir agreed to a longer adjournment, but instructed Plaistow's representative to get in touch with the two witnesses without any further delay, "in view of the serious nature of the matter". August 4 and 5, and August 16 and 17 were suggested as alternative dates for the resumption of inquiry, but the LA stated that he would prefer the earlier dates, if possible, and he would not allow the case to drag on.
Curtailment and grant at same hearing
• J. F. Peden (Edinburgh) Ltd, appeared at Edinburgh last week to show cause under Section 69. The company admitted receipt of 11 GV9s (four immediate and seven delayed) between March 1970 and June 1971, and was penalized by curtailment of its licence by three vehicles for three months starting this week.
The firm also asked for variation of its 0 Licence by the addition of two trailers to be acquired.
Mr H. Aylmer, deputy LA, granted the two trailers, accepting that there would be a new pattern of maintenance and that facilities were adequate. At the same time, he ordered curtailment of the licence by the removal of three vehicles, two on licence and the margin of one vehicle for three months, effective from July 26.