PEOPLE
30th July 1971
Page 19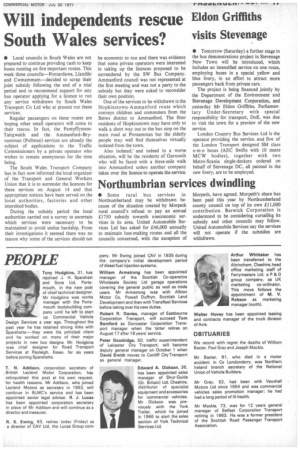 Page 19, 30th July 1971 —
PEOPLE
Close
Tony Hodgkins, 31, has rejoined J. H. Sparshatt and Sons Ltd. Portsmouth. in the new post of chief technical designer. Mr Hodgkins was works manager with the Portsmouth bodybuilding company until he left to start up Commercial Vehicle Design Services a year ago. Throughout the past year he has retained strong links with Sparshatts— they were his principal client and he worked on many of their major projects in new bus designs. Mr. Hodgkins was chief designer for Road Transport Services at Rayleigh. Essex. for six years before joining Sparshatts.
T. N. Addison, corporation secretary of British Leyland Motor Corporation, has relinquished this post at his own request, for health reasons. Mr Addison, who joined Leyland Motors as secretary in 1953, will continue in BLMC's service and has been appointed senior legal adviser. R. J. Lucas has been appointed corporation secretary in place of Mr Addison and will continue as a director and treasurer.
R. S. Ewing, 63. retires today (Friday) as a director of CAV Ltd, the Lucas Group corn pany. Mr Ewing joined CAV in 1935 during the company's initial development period of diesel fuel injection systems.
William Armstrong has been appointed manager of the Scottish Co-operative Wholesale Society Ltd garage operations covering the general public as well as trade users. Mr Armstrong was with Albion Motor Co, Powell Duffryn, Scottish Land Development and then with Transfleet Services before taking over his new duties.
Robert R. Davies, manager of Eastbourne Corporation Transport, will succeed Tom Bamford as Doncaster Corporation Transport manager when the latter retires on August 17 after 18 years' service.
Peter Goodridge, 50, traffic superintendent of Leicester City Transport, will become deputy general manager on October 1 when David Smith moves to Cardiff City Transport as general manager.
Edward A. Dickson, 36, has been appointed sales manager of Shur-Guide (Gt. Britain) Ltd. Cheshire, distributor of specialist equipment and accessories for commercial vehicles. Mr Dickson was previously with the York Trailer, which he joined in 1966 to start the sales section of York Technical Services Ltd. Arthur Whittaker has been transferred to the Altrincham, Cheshire, head office marketing staff of Ferrymasters Ltd, a P & 0 group company, as UK marketing co-ordinator. This move follows the appointment of M. V. Robson as marketing manager (north).
Walter Hovey has been appointed leasing and contracts manager of the truck division of Avis.
OBITUARIES
We record with regret the deaths of William Baxter, Paul Gray and Joseph Mackie.
Mr Baxter, 61, who died in a motor accident in Co Londonderry. was Northern Ireland branch secretary of the National Union of Vehicle Builders.
Mr Gray, 52, had been with Vauxhall Motors Ltd since 1954 and was commercial vehicles sales promotion manager: he had had a long period of ill-health.
Mr Mackie, 73, was for 12 years general manager of Belfast Corporation Transport retiring in 1963. He was a former president of the Scottish Road Passenger Transport Association.
Tags
People
:
Walter Hovey
,
Joseph Mackie
,
Peter Goodridge
,
R. J. Lucas
,
David Smith
,
Robert R. Davies
,
Arthur Whittaker
,
Tom Bamford
,
S. Ewing
,
Edward A. Dickson
,
Tony Hodgkins
,
William Armstrong
,
William Baxter
,
Paul Gray
,
M. V. Robson
,
T. N. Addison