LT split-entrance fares change
30th July 1971
Page 18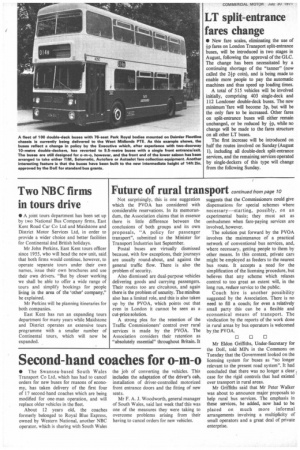 Page 18, 30th July 1971 —
LT split-entrance fares change
Close
• New fare scales, eliminating the use of 4-p fares on London Transport split-entrance buses, will be introduced in two stages in August, following the approval of the GLC. The change has been necessitated by a continuing shortage of the "tanner" (now called the 24-p coin), and is being made to enable more people to pay the automatic machines and thus speed up loading times.
A total of 515 vehicles will be involved initially, comprising 403 single-deck and 112 Londoner double-deck buses. The new minimum "fare will become 3p, but will be the only fare to be increased. Other fares on split-entrance buses will either remain unchanged, or be reduced by 4-p, while no change will be made to the fares structure on all other LT buses.
The first increase will be introduced on half the routes involved on Sunday (August I), including all double-deck split-entrance services, and the remaining services operated by single-deckers of this type will change from the following Sunday.