Stage/express redefined
30th July 1971
Page 17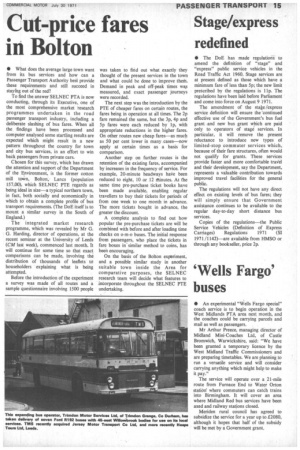 Page 17, 30th July 1971 —
Stage/express redefined
Close
• The DoE has made regulations to amend the definition of "stage" and "express" public service vehicles in the Road Traffic Act 1960. Stage services are at present defined as those which have a minimum fare of less than 5p; the new limit prescribed by the regulations is lip. The regulations have been laid before Parliament and come into force on August 9 1971.
The amendment of the stake/express service definition will ensure the 'continued effective use of the Government's bus fuel grant and new bus grant which are paid only to operators of stage services. In particular. it will remove the present reluctance to introduce new types of limited-stop commuter services which, because of their fare structures, often would not qualify for grants. These services provide faster and more comfortable traVel and their development, say the Department, represents a valuable contribution towards improved travel facilities for the general public.
The regulations will not have any direct effect on existing levels of bus fares; they will simply ensure that Government assistance continues to be available to the regular day-to-day short distance bus services.
Copies of the regulations—the Public Service Vehicles (Definition of Express Carriages) Regulations 1971 (SI 1971/1142)—are available from HMSO or through any bookseller, price 2p.