Culpability decisive rules Tribunal
30th July 1971
Page 13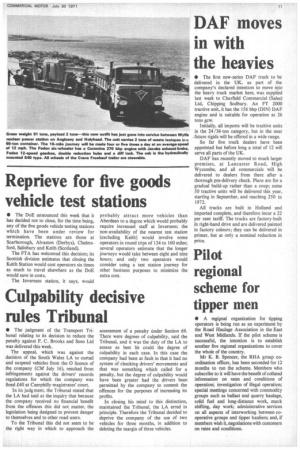 Page 13, 30th July 1971 —
Culpability decisive rules Tribunal
Close
• The judgment of the Transport Tribunal relating to its decision to reduce the penalty against F. C. Brooks and Sons Ltd was delivered this week.
The appeal, which was against the decision of the South Wales LA to curtail and suspend vehicles from the 0 licence of the company (CM July 16), resulted from infringements against the drivers' records regulations for which the company was fined £40 at Caerphilly magistrates' court.
In its judgment, the Tribunal stated that the LA had Said at the inquiry that because the company received no financial benefit from the offences this did not matter, the legislation being designed to prevent danger to themselves and to other road users.
To the Tribunal this did not seem to be the right way in which to approach the assessment of a penalty tinder Section 69. There were degrees of culpability, said the Tribunal, and it was the duty of the LA to assess as best tie could the degree of culpability in each case. In this case the company had been at fault in that it had no system of checking drivers movements and that was something which called for a penalty, but the degree of culpability would have been greater had the drivers been permitted by the company to commit the offences for the purposes of increasing its profits.
In closing his mind to this distinction, maintained the Tribunal, the LA erred in principle. Therefore the Tribunal decided to deprive the company of the use of two vehicles for three months, in addition to deleting the margin of three vehicles.