Crime and punishment
30th July 1971
Page 11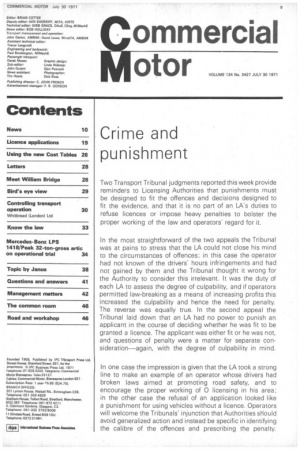 Page 11, 30th July 1971 —
Crime and punishment
Close
Two Transport Tribunal judgments reported this week provide reminders to Licensing Authorities that punishments must be designed to fit the offences and decisions designed to fit the evidence, and that it is no part of an LA's duties to refuse licences or impose heavy penalties to bolster the proper working of the law and operators' regard for it.
In the most straightforward of the two appeals the Tribunal was at pains to stress that the LA could not close his mind to the circumstances of offences; in this case the operator had not known of the drivers' hours infringements and had not gained by them and the Tribunal thought it wrong for the Authority to consider this irrelevant. It was the duty of each LA to assess the degree of culpability, and if operators permitted law-breaking as a means of increasing profits this increased the culpability and hence the need for penalty. The reverse was equally true. In the second appeal the Tribunal laid down that an LA had no power to punish an applicant in the course of deciding whether he was fit to be granted a licence. The applicant was either fit or he was not, and questions of penalty were a matter for separate consideration—again, with the degree of culpability in mind.
In one case the impression is given that the LA took a strong line to make an example of an operator whose drivers had broken laws aimed at promoting road safety, and to encourage the proper working of 0 licensing in his area: in the other case the refusal of an application looked like a punishment for using vehicles without a licence. Operators will welcome the Tribunals' injunction that Authorities should avoid generalized action and instead be specific in identifying the calibre of the offences and prescribing the penalty.