STAND-UP FIGHT" AT LEICESTER
30th July 1937
Page 54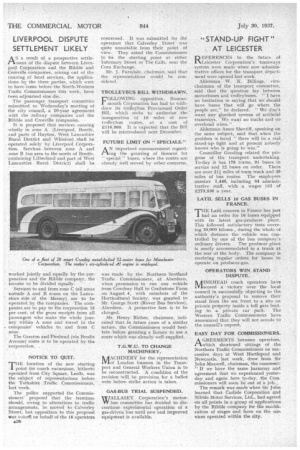 Page 54, 30th July 1937 —
STAND-UP FIGHT" AT LEICESTER
Close
REFERENCES to the future of Leicester Corporation's tramways system were made when new administrative offices for the transport department were opened last week.
Alderman W. K. Billings, vicechairman of the transport committee, said that the question lay between motorbuses and trolleybuses. " I have no hesitation in saying that we should have buses that will go Where the people are," he declared. "We don't want any glorified system of artificial tramways. We want no tracks and no overhead wires."
Alderman Amos Sherriff, speaking on the same subject, said that when the problem is faced " there will be a real, stand-up fight and at present nobody knows who is going to win."
Councillor Gooding related the progress of. the transport undertaking. To-day it has 178 trams, 91 buses in service and 12 buses on order. There are over 21-1 miles of tram track and 39 miles of bus routes. The employees number 1,446, including 84 administrative staff, with a wages bill of £273,530 a year.
LATIL SELLS 16 GAS BUSES IN FRANCE.
THE Latil concern in France has just had an order for 16 buses equipped with its latest gas-producer plant. This -followed satisfactory tests covering 10,000 kiloms., during the whole of which distance the vehicle was controlled by one of the bus company's ordinary drivers. The producer plant is neatly accommodated in a trunk at the rear of the body. The company is receiving regular orders for buses to operate on producer-gas.
OPERATORS WIN STAND DISPUTE.
NAINEHEAD coach operators have IVIscored a victory over, the local council in successfully objecting to the authority's proposal to remove their stand from the sea front to a site on private property inside a toll gate leading to 'a private car park. The Western Traffic Commissioners have announced that they will not accede to the council's request.
EASY DAY FOR COMMISSIONERS.
AGREEMENTS between operators, which shortened sittings of the Northern Traffic Commissioners on successive days at West Hartlepool and Newcastle, last week, drew from .Sir John Maxwell, chairman, the comment: "If we have the same harmony and agreement that we experienced yesterday and again here to-day, the Corn missioners will soon be out of a job., The remark was made when Sir John learned that 'Carlisle Corporation and aibble Motor Services, Ltd., had agreed on all points in a group of applications by the Ribble company for the modification of stages and fares on the services operated within the city,