Railways Urge Bus Ticket Restrictions xy/FIEN proposals by railway interests
30th July 1937
Page 53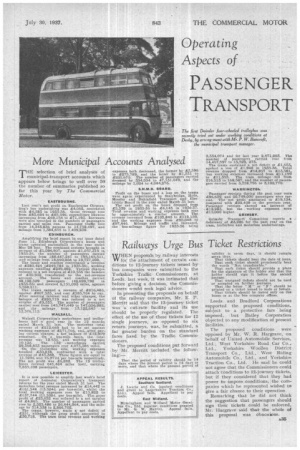 Page 53, 30th July 1937 —
Railways Urge Bus Ticket Restrictions xy/FIEN proposals by railway interests
Close
Vir for the attachment of certain conditions to 12-journey tickets issued by bus companies were submitted to the Yorkshire Traffic Commissioners, at Leeds, last week, it was intimated that before giving a decision, the Commissioners. would. seek legal advice.
In presenting the proposals on behalf of the railway companies, Mr. E. P. Merritt said that the 12-journey ticket Was 'a cut-rate facility -and its use should be properly regulated. The effect of the use of these tickets for 12 single journeys: as opposedto six return journeys, was, he submitted, a far greater burden on the standard fares .fixed by the Traffic. Commissioners.
The proposed conditions put forward . by Mr. Merritt included the follow ing:•
That the period of validity should be 14 days where the present period is 14 days or more, and that where the present period of validity is seven days, it should 'remain seven days. That tickets should bear the date of issue. That each 'ticket should prominently bear the words " rot transferable."
That each ticket should provide a plane for the signature of the holder and that the holder should sign it before the second Journey. 'not unsigned tickets should not be used or accepted on further journeys.
That the fetter 31" or "h"' should be printed on a ticket issued to male or female.
That titikets should be footled only on the buses or at the bus company offices.
Leeds and Bradford Corporations supported the proposed conditions, subject to a protective fare being imposed, but Batley Corporation objected to any modification of present facilities.
The proposed conditions were opposed by Mr. W. R. Hargrave, on behalf of United Automobile Services, Ltd., West Yorkshire Road Car Co., Ltd., Yorkshire Woollen District Transport Co., Ltd,, West Riding Automobile Co., Ltd., and Yorkshire Traction Co., Ltd. He said he could not agree that the Commissioners could attach conditions to 12-journey tickets, but if they considered that they had power to dmpose_conditions, the cornpanics which he represented wished to give a fair chance to their operation.
Remarking that he did not think the suggestion that passengers should sign their tickets could be enforced, Mr.. Hargrave ,,aid that the whole of this proposal was obnoxious.