More Municipal Accounts Analysed T HE selection of brief analyses of
30th July 1937
Page 53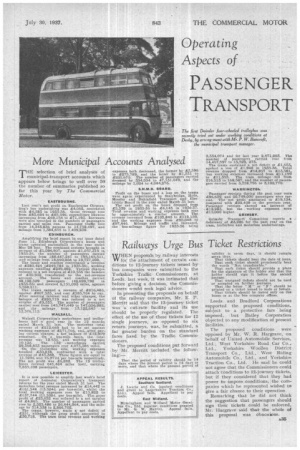 Page 53, 30th July 1937 —
More Municipal Accounts Analysed T HE selection of brief analyses of
Close
municipal-transport accounts which appears below brings to well over 50 the number of summaries published so far this year by The Commercial Motor.
• EASTBOURNE.
Last year's net profit on Eastbourne Corporation's bus undertaking was £4,062, contrasted with *4,583 in 1935-36. Gross revenue ruse from 483,694 to £85,546, expenditure likewise Increasing from £69,154 to £71493. Increases were also recorded in the numbers of passengers carried and miles run. Passenger traffic rose from 14,343,636 persons to 24,758,497, and mileage from. 1,384,655 to 1.409,238.
EDINBURGH.
Amplifying the brief. report in our issue dated June 11, Edinimigh Corporation's buses and trams operated successfully in the year ended May 28 last. The combined systems brought in revenue of £1,096,907, against £1,057,319 in. 1935-36, the number of passengers carried increasing from 188,447,241 to 1.95465,511, and mileage from 18,690,856 to 19,727,208. The buses and coaches contributed a revenue of £280.424 '(£249,784 in 1935-36), working expenses totaling £249,492. 'Various charges reduced to a net surplus of £10,536 the balance of .x30,932 transferred to the, net-revenue account. The buses and coaches carried ' 48,108,529 passengers (42,699,792 in 1935-36) and covered 6,151,093 miles, against 5,568.211. •
Thetrams earned a revenue of £816,483, against £807,535, and coat £595,764 to run. After meeting interest 'and other •charget, the balance of £220,719 -seas reduced to a net surplus of £9,335. The number of passengers carried 'rose from 145,747,449 to 547,056,962; and the mileage from 13,122,645 to 13,576,115.
• WALSALL..
WalsallCorporation's motorbuses and trolleybriars had a good year in the 12 mouths ended March 31 /est. The. motorbns --total revenue of £212,669 had, to be set against workingexpenses. of: £171,766, and, .after , pay, frig various 'charges, a bet balance of *Z12,909
remained. 01:1 a bus-mile -basis, the.. total revenue was 12.533. and working expenses 10.12d. The 132 motorbuses carried, 29,368,833 passengers over 4,073,386 miles. On the trolleybus Side, working eipeuses totalled £30,818, contrasted with a total revenue of £45,368. These figures are equal to 11.5294. and 16,972-dose bus-mile respectively. The net profit was 16,282. The 19 trolley/loses covered 642,454 miles (net), carrying 7,655,108 passengers.
LEICESTER.
It is now possible to amplify last week's brief report of Leicester corporation's transport returns' for the year ended March 31 last. The motorbus total revenue increased by £14,442 to £161.548 (13.5244. pet bus-mile), whilst the 'fetal working expenses rose by £15,822 to £137,744 111.532d, pee bus-mile). The, gross profit of £23,652 was reduced to a net surplus of .£4,865. The number of passengers carried rose by 2,525,466 to 26,444,904, and the mileage by 314,538 to 2,866,702.
The trams, however, made a net deficit Of £251, although the gross profit amounted to £30,718. The tram total revenue and working
expenses both decreased, the former by £3,596 to £275,789, and the latter by £1,531 to £231,670. ' The number of passengers. carried dropped by 354,054 to 47,131,049, and the mileage by 1,024 to 4,084,276.
S.H.M.0, BOARD.
Profit on the buses and a loss +)13 the 'Imam were again experienced by Stalybriclge, Hyde, Mossley and Dukinfield Transport and Electricity Board in the year ended Match 31 :ash
The net profit on the buses dropped Iron £5,539 in 1935-36 to £4,143 in 1936-37. Total revenue and working expenses both rose by approximately a similar amount. The revenue increased from £105,843 to £112,159, and the working expenses from £90,048 to £97,446. Mileage and traffic also increased, the bus-mileage figure for 1935-36 bding 2,554,074 and for lest year 2,471,203. The number of passengers carried rose from. 14,467,897 to 15,529, 273. The trams sustained a net deficit or £1,653, agatnst a loss, of £1,948 in 1935-35. Total revenue dropped from £14,857 to £13,581, but working expenses increased from £11,199 to £11,355. The tram mileage .fell from 216,513 to 168,587, and the number of passengers carried from 3,358,796 to '3402,770.
WARRINGTON, 'Passenger receipts during the past year were £96,639, and 20,749,800 passengers were carried. The net profit amounted tro £19,134, compared with £22,408 in the previous year. Passenger receipts showed an increase at £12,283, but the working expenses -were £15,000 higher. GRIMSBY,
Grimsby Transport Committee reports a deficiency f £3,286 for the past year on the tram, trolley-bus and motorbus undertakings.