Up to the minute—Hull's First Trolleybuses L AST Friday marked the
30th July 1937
Page 52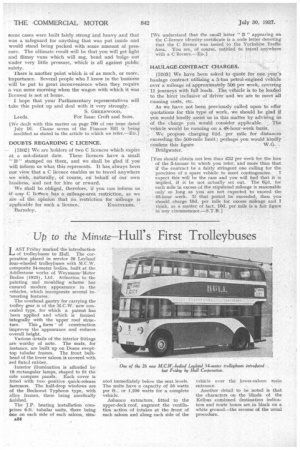 Page 52, 30th July 1937 —
Up to the minute—Hull's First Trolleybuses L AST Friday marked the
Close
introduction of trolleybuses to Hull. The corporation placed in service 26 Leyland four-wheeled trolleybuses with M.C.W. composite 54-seater bodies, built at the Addlestone works of Weymanne Motor Bodies (1925), Ltd. A.ttention to the painting and moulding scheme has ensured modern appearance in the vehicles, which incorporate several interesting features.
The overhead gantry for carrying the trolley gear is of the M.C.W. new concealed type, for which a patent has been applied and which is formed integrally with the upper roof struc
ture. This form ' of construction improves the appearance and reduces overall height.
Various details of the interior fittings are worthy of note. The seats, for instance, are built up on Deans swept top tubular frames. The front bulkhead of the lower saloon is covered with red fluted rubber.
interior illumination is afforded by 18 rectangular lamps, shaped to fit the side compass panels. Each cover is fitted with two positive quick-release fasteners. The half-drop windows are of the Beclawat Typhoon type, with alloy, frames, these being anodically finished.
The J.P. heating installation comprises 6-ft. tubular units, there being one on each side of each saloon, situ
e,434 ated immediately below the seat levels. The units have a capacity of 50 watts per ft., or 1,200 watts for a complete vehicle.
Ashanco extractors, fitted to the upper-deck roof, augment the ventilatibn action of intakes at the front of each saloon and along each side of the vehicle over the lower-saloon main entrance.
Another detail to be noted is that the characters on the blinds of the Kelleus combined destination indicators and route boxes are in black on a white ground—the reverse of the usual procedure.