OPINIONS
30th July 1937
Page 51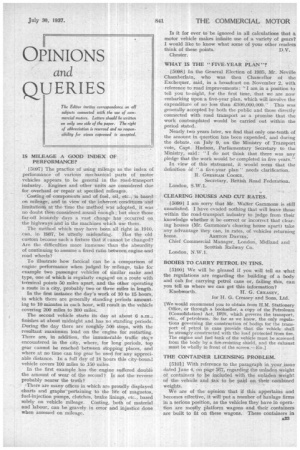 Page 52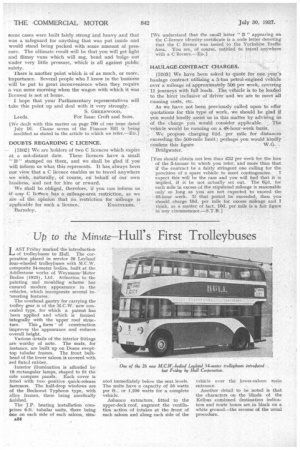 Page 51, 30th July 1937 —
OPINIONS
Close
and
QUERIES
The Editor invites correspondence on all subjects connected with the use of commercial motors. Letters should be written on only one side of the paper. The right of abbreviation is re-served and no responsibility for views expressed is accepted.
IS MILEAGE A GOOD INDEX OF PERFORMANCE?
[5097] The practice of using mileage as the index of performance of various mechanical parts of motor vehicles appears to be general in the road-transport industry. Engines and other units are considered due for overhaul or repair at specified mileages.
Costing of ,components. and of fuel, oil, etc., is based on mileage, and in view of the _inherent conditions and limitatiorit at the time the method was adopted, it was no doubt then Considered sound enough; but since those. far-off leisurely days a _vast change has occurred on the highways and in the machines which use them.
The method which may have been all right in 1910, can, in 1937, be utterly misleading. Has the old custom become such a fixture that it cannot be changed? Are the difficulties more immense than the absurdity of continuing to assume a fixed ratio between engine "and road wheels?
To illustrate how farcical can be a comparison of engine performance when judged by mileage, take for example two passenger vehicles of similar make and type, one of which is regularly engaged on a route with terminal points 50 miles apart, and the other operating a route in a city, probably two or three miles in length.
In the first instance the day's work of 10 to 15 hours, in which there are generally standing periods amounting to 10 minutes in each hour, will result in the vehicle covering 200 miles to 300 miles.
The second vehicle starts its day at about 6 a.m., finishes at about midnight and has no standing periods. During the day there are roughly 500 stops, with the resultant maximum load on the engine for restarting. There are, in addition, the innumerable. traffic stops encountered in the city, where, for long periods, top gear cannot be reached between stopping places, and where at no time can top gear be used for any appreciable distance. In a full day of 18 hours this city-bound vehicle covers 100 miles to 150 miles.
In the first example has the engine suffered double the amount of wear of the second? Is not the reverse probably nearer the truth?
There are many offices in which are proudly displayed charts and graphs-pertaining to the life of magnetos, fuel-injection pumps, clutches, brake linings, etc., based solely on vehicle mileage. Costing, both of material and labour, can be gravely in error and injustice done when assessed on mileage.
Is it for ever to be ignored in all calculations that a motor vehicle makes infinite use of a variety of gears? I would like to know what some of your other readers think of these points. D.V. Chester.
WHAT IS THE "FIVE-YEAR PLAN"?
150981 In the General Election of 1935, Mr. Neville Chamberlain, who was then Chancellor of the Exchequer, said, in a broadcast on November 2, with reference to road improvements: "I am in a position to tell you to-night, for the first time, that we are now embarking upon a five-year plan, which will involve the expenditure of no less than L100,000,000." This was generally accepted by both the public and those directly connected with road transport as a promise that the work contemplated would be carried out within the period stated.
Nearly two years later, we find that only one-tenth of the amount in question has been expended, and during the debate, on July 9, on the Ministry of Transport vote, Capt. Hudson, Parliamentary Secretary to the Ministry, said: "I do not think that there was any pledge that the work would be completed in five years."
In view of this statement, it would seem that the definition of "a five-year plan" needs clarification.
R. GRESHAM COOKE, Secretary, British Road Federation. London, S.W.1.
CLEARING HOUSES AND CUT RATES.
[50991 I am sorry that Mr. Walter Gammons is still unsatisfied. I have evaded nothing that will leave those within the road-transport industry to judge from their knowledge whether it be correct or incorrect that clearing 'houses (Mr. Gammons's clearing house apart} take any advantage they can, in rates, of vehicles returning home. ASHTON DAVIES, Chief Commercial Manager, London, Midland and Scottish Railway Co. London, N.W.1.
BODIES TO CARRY PETROL IN TINS. .
[5100] We will be pleased if you will tell us what the regulations are regarding the building of a body and cab for carrying petrol cans or, failing this, can you tell us where we can get this information?
Knebworth. H. G. CREASEY, for H. G. Creasey and Sons, Ltd.
[We would recommend you to obtain from H.M. Stationery Office, or through a bookseller, a copy of the Petroleum (Consolidation) Act, 1D28, which governs the transport, etc., of petroleum. So far as we know, the only regulations governing the construction of bodies for the transport of petrol in cans provide that the vehicle shall be strongly constructed with tho load protected from fire. The engine and fuel tank of the vehicle must be screened. from the body by a fire-resisting shield, and the exhaust must be wholly in front of the screen.---En.] THE CONTAINER LICENSING PROBLEM.
[5101] With reference to the paragraph in your issue dated June 4, on page 567, regarding the unladen weight ot containers to be included with the unladen weight of the vehicle, and tax to be paid on their combined weights.
We are of the opinion that if this appertains and becomes effective, it will put a number of haulage firms in a serious position, as the vehicles, they have in operation are mostly platform wagons and their containers are built to fit on these wagons. These containers in some cases were built fairly strong and heavy and that was a safeguard for anything that was put inside arid would stand being packed with some amount of pressure. The ultimate result will be that you will get light and flimsy vans which will sag, bend and bulge out Under very little pressure, which iS all against public safety.
There is another point which is of as much, or more, importance. Several people who I know in the business will be put to great .inconVenience when they require a van some morning when the wagon with which it was licensed is not at home.
I hope that your Parliamentary representatives will take this point up and deal with it very strongly.
S. GREENWOOD,
Leeds. For Isaac Croft and Sons.
[We dealt with this matter on page NO of our issue dated July 16. Clause seven of the .Finance Bill is being modified as stated in the article to which we refer.—ED.]
DOUBTS REGARDING C LICENCE.
[5102] We are holders of two C licences which expire at a not-distant date. These licences have a small "
B" stamped on them, and we shall be glad if you will inform us what this represents. It has always been our view that a C licence enables us to travel anywhere we wish, naturally, of course, on behalf Of our own business, and not for hire or reward.
We shall be obliged, therefore, if you can inform us if any C licence has a mileage-area restriction, as we ire of the opinion that no restriction for mileage is
applicable for such a licence. ENGINEERS. Barnsley.
[We understand that the small letter " B " appearing on the C-licence identity certificate is a code letter denoting that the C licence was issued to the Yorkshire Traffic Area. You are of course, entitled to travel anywhere with a C licence.—E.]
HAULAGE -CONTRACT CHARGES.
15103] We ha,Ve been asked to quote for one years haulage contract utilizing a 5-ton petrol-engined vehicle over a mileage of approximately 500 per week, coVering 11 journeys with full loads. The vehicle is to be loaded to the hirer inclusive of &bier and we' are to meet all running costs, etc.
As we have not been previously called upon to offer quotations for this type of work, vire should be glad if you would kindly assist us in this matter by advising.ns
of the charge you would consider applicable. The vehicle would be running on a 48-hour-week basis. . We propose Charging 6id. per mile for distances exceeding the 500-mile ; perhaps you would kindly confirm this figure W.G. Bridgwater.
[You should obtain not less than £22 per Week for the hire of the 5-tonner to which you refer, and more than that if the contract be a fairly stringent one calling for the provision of a spare vehicle to meet contingencies.
expect this will be the case and you will find that it is iniplied, if it be not actually set out. The Old. for each mile in excess of the stipulated mileage is reasonable only so long as you are not expected to exceed the 48-hour week. If that period be exceeded, then you should charge 10d. per mile for excess mileage and I think, as a matter of fact, 10d. per mile is a fair figure in any circumstance.—S.T.R.]