Cheap at the Price
30th July 1937
Page 50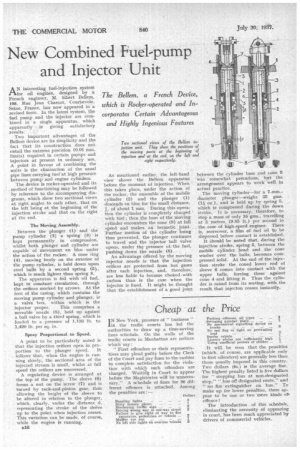 Page 50, 30th July 1937 —
Cheap at the Price
Close
I N New York, pressure of " business " in the traffic courts has led the authorities to draw up a time-saving fines schedule. On the walls of the traffic courts in Manhattan are notices which say : " First offenders or their representatives may Plead guilty before the Clerk of the Court and pay fines to the cashier in complete satisfaction for the violation with which such offenders are charged. Waitih in Court to appear before the Magistrates will be unnecessary." A schedule of fines for 36 different offences is attached. Among the penalties are:—
Dazzling lights Dirty licence plates ... Disobeying traffic sign ,..
Driving wrong way in ace-way street Failure to give right oi way to fire apparatus, pedestrian or vehicle ... Muffler rut out
No kit side lights on oversize vehicle
Parking offences, all types ... ... 1 Swinging number plate 1 No mechanical signalling device on trucks 2 No red flag or light on protruding load Smoky vehicle 1 Licence plates not sufficiently high 1 Using unofficial posters or sticker ... 1
It will be seen that the penalties (which, of course, are applicable only to first offenders) are generally less than those usually imposed in this country-. Two dollars (8s.) is the average fine. The highest penalty listed is five dollars for " stopping bus at non-designated stop," "bus off designated route," and " nofire extinguisher on bus." To make up for lower penalties, there appear to be one or two more kindsof" offence
2 The introduction of this schedule, 2 eliminating the necessity of appearing 2 in court, has been much appreciated by
a
2 drivers of commercial vehicles.