What the
30th July 1937
Page 45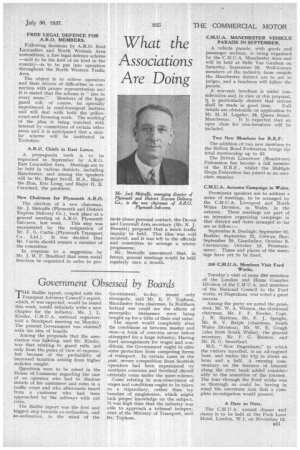 Page 45, 30th July 1937 —
What the
Close
Keywords :
Associations
Are Doing
FREE LEGAL DEFENCE FOR A.R.O. MEMBERS.
Following decisions by A.R.O. East Lancashire and North Western Area committees, a free legal-defence scheme —said to he the first of its kind in the country—is to be put into operation throughout the North Western Traffic Area.
The object is to relieve operators and their drivers of difficulties in connection with proper representation and it is stated that the scheme is " free in every sense." Members of the legal panel will, of course, be specially experienced in road-transport matters and will deal with both the policecourt and licensing work. The working' of the plan is being watched with interest* by committees of certain other areas and it is anticipated that a similar scheme will be instituted in Yorkshire.
A.R.O. Chiefs in East Lancs.
A propaganda week is to be organized in September by A.R.O. East Lancashire Area. Meetings are, to be held in various districts, including Manchester, and among the speakers will be Mr. Roger Sewill, M.A., Major the Hon. Eric Long, and Major H. E. Crawfurd, the president.
New Chairman for Plymouth A.R.O.
The election of a new chairman, Mr. J. Metcalfe (Plymouth and District Express Delivery Co.), took place at a general meeting of A.R.O. Plymouth Sub-area, last week. This step was necessitated by the resignation of Mr. F. G. Curtis (Plymouth Transport Co., Ltd.). It was decided that Mr. Curtis should remain a member of the committee.
In response to a suggestion by Mr, J. R. F. Bradford that some social function be organized in order to pro mote closer personal contact, the Devon and Cornwall Area secretary (Mr. N. J. Bennett) proposed that a mock traffic inquiry be held. This ideawas well received, and it was left to the officials and committee to arrange a winter programme.
Mr. Metcalfe announced that, in future, general meetings would be held regularly once a month. C.M.U.A. MANCHESTER VEHICLE PARADE IN SEPTEMBER.
A vehicle parade, with goods and passenger sections, is being organized by the C.M.U.A. Manchester Area and will be held at Belle Vue Gardens on Saturday, September 25. Well-known members of the industry from outside the Manchester district are to act as judges, and a luncheon will follow the parade.
A souvenir brochure is under consideration and, in view of this proposal, it is particularly desired that entries shall be made in good time. Full details are obtainable on application to Mr. H. H. Lapsley, 28, Queen Street,
Manchester. It is expected that an open class for non-members will be included, Two New Members for B.12,.F.
The addition of two new members to the British Road Federation brings the total membership up to 53.
The British Limestone (Roadstone) Federation has become a full membet of the B.R.F., whilst the Multiple Shops Federation has joined as an asso ciate member. • C.M.U.A. Autumn Campaign in Wales.
Prominent speakers are to address a series of meetings, to be arranged by the C.M.U.A. Liverpool and North Wales Division, in Wales, in the autumn. These meetings are part of an intensive organizing campaign in that district and dates arranged so far are as follow:—
September 8, Denbigh; September 15, Ruthin; September 22, Colwyn Bay; September 29, Llandudno; October 6, Caernarvon; October 13, Penmaenmawr. Times and places of the meetings have yet to be fixed.
200 C.M.U.A. Members Visit Ford Works.
Tuesday's visit of some 200 members of the London and Home Counties Division of the C.M.U.A. and members of the National Council to the Ford works, at Dagenham, was voted a great success.
Among the party we noted the president, Mr. W. A. Winson, the-divisional chairman, Mr. F. F. Fowler, Capt. J. H. Maidens, Mr. F. J. Speight, Mr. E. V. Ralph (chairman, South Wales Division), Mr. W. E. Gough (also from South Wales). the general secretary, Mr. F. G. Bristow, and Mr. H. G. Sweetland.
M.S. "New Dagenham," in which the visitors travelled, is an oil-enginecl boat, and makes the trip in about an hour and a half. A running commentary on the features of interest along the river bank added consider-' ably to the amenities of the journey. The tour through the Ford works was as thorough as could be, having in mind the enormous task that a complete investigation would present.
A Date to Note.
The C.M.U.A. annual dinner and dance is to be held at the Park Lane Hotel, London, W.1, on November 10. 3311
Tags
People
:
Roger Sewill
,
F. F. Fowler
,
N. J. Bennett
,
F. G. Curtis
,
W. A. Winson
,
E. V. Ralph
,
Crawfurd
,
J. Metcalfe
,
J. H. Maidens
,
W. E. Gough
,
H. H. Lapsley
,
F. J. Speight
,
F. G. Bristow
,
H. G. Sweetland