Government Obsessed by Boards HE Baillie report, coupled with the
30th July 1937
Page 45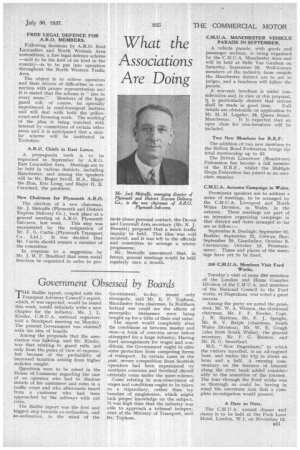 Page 45, 30th July 1937 —
Government Obsessed by Boards HE Baillie report, coupled with the
Close
Keywords :
Transport Advisory Council's report, which, it was expected, would be issued this week, would definitely write a new chapter for the industry, Mr. J. L. Kinder, C.M.U.A. national organizer, told a Stockport meeting on Monday. The present Government was obsessed with the idea of boards.
Among the proposals that the association was fighting, said Mr. Kinder, was that relating to guard rails, not only from the point of view of expense, but because of the probability of increased taxation arising from higher unladen weight.
Questions were to be asked in the House of Commons regarding the case of an operator who had to disclose details of his customers and rates in a traffic court and who afterwards heard from a customer who had been approached by the railways with cut rates.
The Baillie report was the first and biggest step towards co-ordination, and co-ordination, in the mind of the
Government, to-day, meant only monopoly, said Mr. E. F. Topham, Manchester Area chairman. In Northern Ireland one could see the effects of monopoly; businesses were being bought up for a tithe of their real value.
The report would completely alter the conditions as. between master and Man—a form of coercion never before attempted for a large industry. Having fixed arrangements for wages and conditions, the Government ought to offer some protection from competing forms of transport. In certain cases in the past, severe competition from Scottish operators had been experienced by northern concerns and Scotland should certainly come under the same scheme.
Cases relating to non-observance of wages and conditions ought to be taken to a stipendiary, rather than lay benches of magistrates, which might lack proper knowledge on the. subject. It was high time that the industry was able to approach a tribunal independent of the Ministry of Transport, said Mr. Topham.