Fish Battle Ends After Nearly a Year
30th July 1937
Page 44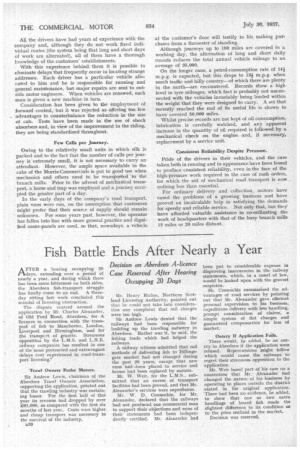 Page 44, 30th July 1937 —
Fish Battle Ends After Nearly a Year
Close
Decision on Aberdeen A-licence Case Reserved After Hearing Occupying 20 Days AFTER a hearing occupying 20days, extending over a period of nearly a year, and during which there has been some bitterness on both sides, the Aberdeen fish-transport struggle has finally come to an end. A threeday sitting last week concluded this scandal of licensing obstruction.
The dispute centred around the application by Mr. Charles Alexander,. of Old Ford Road, Aberdeen, for A licences in connection with the transport of fish to Manchester, London, Liverpool and Birmingham, and for the transpert of granite. Strenuous opposition by the L.M.S. and L.N.E. railway companies has resulted in one of the most protracted and extravagant delays ever experienced in road-transport licensing.'
Trawl Owners Prefer Motors.
Sir Andrew Lewis, chairman of the Aberdeen Trawl Owners Association, supporting the application, pointed out that the trawling industry was sustaining losses. For the first half of this year its revenue had dropped by over £91,000, as compared with the first six mouths of last year. Costs were higher and cheap transport was necessary to the survival of the industry.
s10
Mr. Henry Riches, Northern Scotland Licensing Authority, pointed out that he could not take into consideration any complaint that rail charges were too high.
Sir Andrew Lewis denied that the railways had been responsible for building up the trawling industry in Aberdeen. Rather was it, he said, the fishing trade which had helped the railways.
A railway witness admitted that rail methods of delivering fish to Billingsgate market had not changed during the past 20 years, except that new vans had-been placed in service and horses had been replaced by motors.
Mr. W. Weir, for the L.M.S., submitted that an excess of transport facilities had been proved, and that Mr. Alexander's services were superfluous.
Mr. W. D. Connochie, for Mr. Alexander, declared that the railways had not produced one commercial man to support their objections and none of their statements had been independently certified. Mr. Alexander had been put to considerable expense in disproving inaccuracies in the railway statements, which, in a court of law, would be looked upon with the gravest suspicion.
Mr. Connochie summarized the advantages of road services by pointing out that Mr. Alexander gave efficient personal supervision to his business, expeditious delivery with less handling, prompt consideration of claims; a simple system of flat charges and guaranteed compensation for loss of market:
Outcry If Application Fails.
There would, he added, be an outcry in Aberdeen if the application were refused. Repercussions might follow which would cause the railways to regret their strenuous opposition to the application.
Mr. Weir based part of his case on a contention that Mr.Alexander had changed the nature of his business by operating to places outside the district -stated in his original application. There had been no evidence, he added, to show that one or two extra handbags of boxed fish made the slightest difference to its condition or to the price realized in the market.
Decisim was reserved.