ROAD TRANSPORT ESSE1 "IAL FOR COSTLY SILK
30th July 1937
Page 42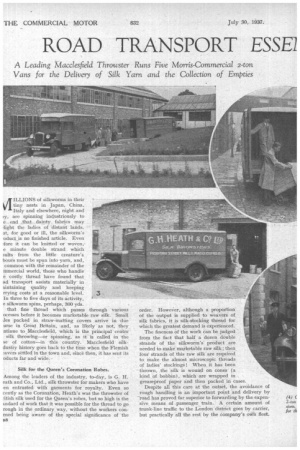 Page 43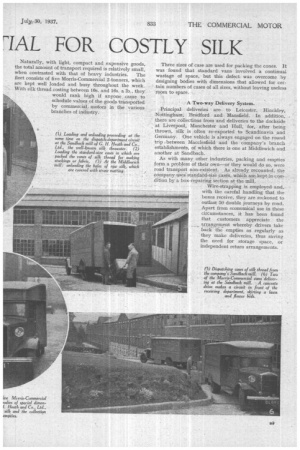 Page 44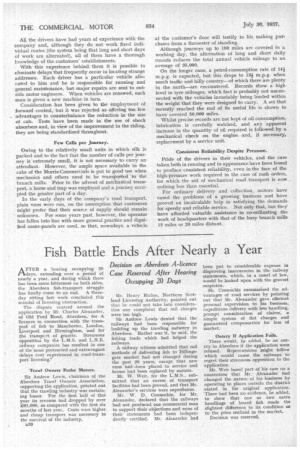 Page 42, 30th July 1937 —
ROAD TRANSPORT ESSE1 "IAL FOR COSTLY SILK
Close
dILLIONSOf silkworms in their tiny nests in Japan, China, Italy and elsewhere, night and Ly, are spinning industriously to
e . end .that. dainty . fabrics may light the ladies of "distant lands. at, for good or ill, the silkworm's oduct.is no finished article. Even :fore it can be knitted or woven,.
e minute double strand which suits from the little creature's boui:s must be spun into yarn, and, common. with the remainder of the itimerciai world,those who handle e costly thread have found that ad transport assists materiallyin aintaining quality and keeping rrying costs at a reasonable level. In three to five days of its activity, e silkworm spins, perhaps, 300 yds.
that fine thread which passes through various ocesses before it becomes marketable raw silk, Small les packed in straw-matting covers arrive in due urse in Great . Britain, -and, as likely as not, they ntinue to Macclesfield, which is the principal centre silk Throwing—or spinning, as it is called in the se of cotton—in this country. Macclesfield silkdustry history goes back to the time when the Flemish 3.avers s-ettled in the town and, since then, it has sent its
oducts far and' wide.
Silk for the Queen's Coronation Robes.
Among the leaders of the industry, to-day, is G. H. eath and Co., Ltd., silk throwster for makers who have en entrusted with garments for royalty. Even so cently as the Coronation, Heath's was the throwster of Htish silk used for the Queen's robes, but so high is the mdard of work that it was possible for the thread to go rough in the ordinary, way, without the workers conrued being being aware of the special significance of the st3
order. HoweN'Ter, although a proportion of the output is supplied to weavers of silk fabrics, it is silk-stocking thread for which the greatest demand is experienced.
The fineness of the work can be judged from the fact that half a dozen double strands of the silkworm's' product are needed to make marketable raw silk ; then four strands of this raw silk' are required to make the almost microscopic threads of ladies' stockings ! When it has been thrown, the silk is wound on cones (a kind of bobbin), which are wrapped in greaseproof paper and then packed in cases.
• Despite all this care at the outset, the avoidance of rough handling is an important paint and delivery by –road has proved far superior to forwarding by the expensive means of passenger train.. A certain amount of trunk-line traffic to the London district goes by carrier, but practically all the rest by the company's oWia fleet.
Naturally, with light, compact and expensive goods, the total amount of transport required is relatively small, when contrasted with that of heavy industries. The fleet consists of five Morris-Commercial 2-tonners, which are kept well loaded and busy throughout the week. With silk thread costing between 10s. and 16s. a lb., they would rank high if anyone _came to schedule values of the goods transported by commercial motors in the various branches of industry. Three sizes of case are used for packing the cones. It was found that standard vans involved a continual wastage of space, but this defectwas overcome by designing bodies with dimensions that allowed for certain numbers of cases of all sizes, without leaving useless room to spare.
• A Two-way Delivery System.
Principal deliveries are to Leicester, Hinckley, Nottingham, Bradford and Mansfield. In addition, there are collections from and deliveries to the dockside at Liverpool, Manchester and Hull, for, after being thrown, silk is often re-exported to Scandinavia and Germany. One vehicle is always engaged on the round trip .between Macclesfield and the company's branch establishments, of which there is one at Isfliddlewich and another at Sandbach.
As with many other industries, packing and empties form a problem of their own—or they would do so, were road transport non-existent. As already recounted, the company uses standard -size cases, which are kept in condition by a box-repairing section at the mill.
Wire-strapping is employed and, with the careful handling that the boxes receive, they are reckoned to outlast 50 double journeys by road. Apart from economical use in these circumstances, it has been found that customers appreciate the arrangement whereby drivers take back the empties as regularly as they make deliveries, thus saving the need for storage space, or independent return arrangements. Ali the drivers have had years of experience with the company and, although they do not work• fixed individual routes (the system being that long and short days of work are alternated), all of them have a thorough knowledge of the customers' establishments.
With this experience behind them it is possible to eliminate delays that frequently occur in locating strange addresses. Each driver has a particular vehicle allocated to him and he is responsible for running and general maintenance, but major repairs are sent to outside motor engineers. When vehicles are renewed, each man is given a new machine in turn.
Consideration has been given to the employment of forward control, but it was rejected as offering too few . advantages to counterbalance the reduction in the size of cab. Tests have been made in the use of shock absorbers and, in view of the improvement in the riding, they are being standardized throughout.
Few Calls per Journey.
Owing to the relatively small units in which silk is packed and to the fact that the number of cans per journey is extremely small, it is not necessary to carry an attendant. However, -the ample space available in the cabs of the Morris-Commercials is put to gooduse when mechanics and others need to be transported to the branch mills Prior to the advent of mechanical transport, a horse and trap was employed and a journey occupied the greater part of a day.
In the early days of the company's road transport, plain vans were run, on the assumption that customers might prefer that their source of supply should remain unknown. For some years past, however, the operator has fallen into line with more general practice and dignified name-panels are used, so that, nowadays, a vehicle at the customer's door will testify to his making purchases from a throwster of standing.
Although journeys up to 180 miles are covered in a working day, the alternation of long and short daily rounds reduces the total annual vehicle mileage to an average of 35,000.
On the longer runs, a petrol-consumption rate of 141 m.p.g. is expected, but this drops to 13/ m.p.g. when much traffic and hilly country—of which there are plenty in the north—are encountered. Records show a high level in tyre mileages, which fact is probably not unconnected with the vehicles invariably being loaded within the weight that they were designed to carry. A set that recently reached the end of its useful life is shown to have covered 58,000 miles.
Whilst precise records are not kept of oil consumption, lubrication is carefully watched, and any apparent increase in the quantity of oil required is followed by a mechanical check on the engine and, if necessary, replacement by a service unit.
Consistent Reliability Despite Pressure.
Pride of the drivers in their vehicles, and the care taken both in running and in appearance have been found to produce consistent reliability, even in the face of the high-pressure work required in the case of rush orders, for which the aid of mechanical road transport is now nothing less than essential.
For ordinary delivery and collection, motors have easedthe problems of a growing business and have proved an incalculable help in satisfying the demands for speedy and reliable service. Not only that, but they have afforded valuable assistance in co-ordinating the work of headquarters with that of the busy branch mills 15 miles or 20 miles distant.