All-round Utility in SIMPLE BODYWORK
30th July 1937
Page 40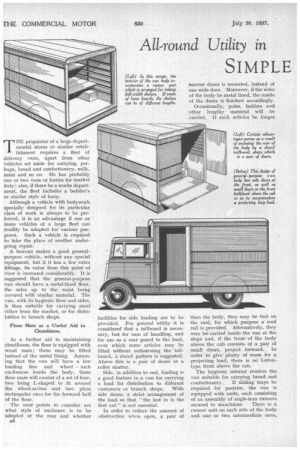 Page 41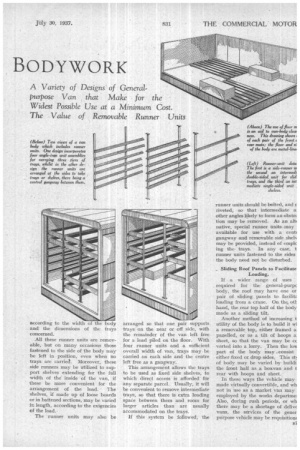 Page 40, 30th July 1937 —
All-round Utility in SIMPLE BODYWORK
Close
A Variety of Designs of Generalpurpose Van that Make for the Widest Possible Use at a Minimum Cost. The Value of Removable Runner Units THE proprietor of a large departmental stores or similar establishment requires a fleet of delivery vans, apart from other vehicles set aside for carrying, perhaps, bread and confectionery, milk, meat and so on. He has probably one or two vans or lorries for market duty ; also, if there be a works department, the fleet includes a builder's or similar style of lorry.
-Although a vehicle with bodywork specially designed for its particular class of work is always to be preferred, it is an advantage if one or more vehicles of a large fleet can readily be adapted for various purposes. Such a vehicle is required to take the place of another undergoing repair.
A box-van makes a good generalpurpose vehicle, without any special equipment, but if it has a few extra fittings, its value from this point of view is increased considerably. It is suggested that the general-purpose van should have a metal-lined floor, the sides up to the waist being covered with similar material. The van, with its hygienic floor and sides, is then suitable for carrying meat either from the market, or for distribution to branch shops.
Floor Mats as a Useful Aid to .
Cleanliness.
As a further aid to maintaining cleanliness, the floor is equipped with wood mats ; these may be fitted instead of the metal lining. Assuming that the van will have a low loading line and wheel arch enclosures inside the body, these floor mats will consist of a set of four, two being L-shaped to fit around the wheel-arches and two plain rectangular ones for the forward half of the floor.
The next points to consider are what style of enclosure is to be adopted at the rear and whether B6 facilities for side loading are to be provided. For general utility it is considered that a tailboard is necessary, but for ease of handling, and for use as a rear guard to the load, over which some articles may be lifted without unfastening the tailboard, a dwarf pattern is suggested. Above this is a pair of doors or a roller shutter.
Side, in addition to end, loading is a good feature in a van for carrying a load for distribution to different customers or branch shops. With side doors, a strict arrangement of the load so that "the last in is the first out" is not essential.
In order to reduce the amount of obstruction when open, a pair of than the body, they may be tied on the roof, for which purpose a roof rail is provided. Alternatively, they may be carried inside the van at the slope and, if the front ' of the body above the cab consists of a pair of small doors, project forward. In order to give plenty of room for a projecting load, there is no Lutontype front above the cab.
The hygienic interior renders the van suitable for carrying bread and confectionery. If sliding trays be required for pastries, the van is equipped with units, each consisting of an assembly of angle-iron runners secured to stanchions. There is a runner unit on each side of the body and one or two intermediate ones, according to the width of the body and the dimensions of the trays concerned.
All these runner units are removable, but on many occasions those fastened to the side of the body may be left in position, even when no trays arc carried. Moreover, these side runners may be utilized to support shelves extending for the full width of the inside of the van, if these be more convenient for the arrangement of the load. The shelves, if made up of loose boards or in battened sections, may be varied in length, according to the exigencies of the load.
The runner units may also be
arranged so that one pair supports trays on the near or off side, with the remainder of the van left free for a load piled on the floor. With four runner units and a sufficient overall width of van, trays may be carried on each side and the centre left free as a gangway. This arrangement allows the trays to be used as fixed side shelves, to which direct access is afforded for any separate parcel. Usually, it will be convenient to remove intermediate trays, so that there is extra loading space between them and room for larger articles than are usually accommodated on the trays.
If this system be followed, the
runner units should be bolted, and r riveted, so that intermediate a other angles likely to form an obstrt tion may be removed. As an alit native, special runner units .may available for use with a cent] gangway and removable side shelx, may he provided, instead of emplc ing thetrays. In any case, t runner units fastened to the sides the body need not be disturbed.
_ Sliding Roof Panels to Facilitate Loading.
If a wider range of uses required for the general-purpc body, the roof may have one or pair of sliding panels to facilitE loading from a crane. On the oth hand, the rear top half of the body made as a sliding tilt.
Another method of increasing t utility of the body is to build it wi a removable top, either framed a. panelled, or as a tilt of hoops a. sheet, so that the van may be cc verted into a lorry. _Then the low part of the body may cconsist either fixed or drop sides., This st2 of body may be varied by buildi the front half as a boxvan and t rear with hoops and sheet.
In these ways the vehicle may made virtually convertible, and wh not in use as a market van may employed by the works departrnei Also, during rush periods, or wh there may be a shortage of delivf vans, the services of the gener purpose vehicle may be requisition(