LICENSING FOR INDIA?
30th July 1937
Page 34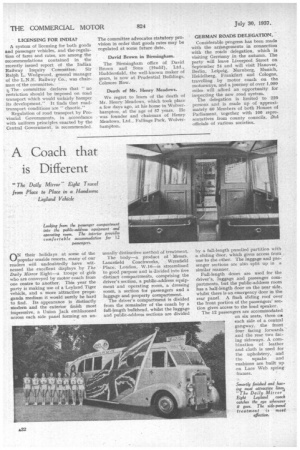 Page 34, 30th July 1937 —
LICENSING FOR INDIA?
Close
Keywords :
A system of licensing for both goods and passenger vehicles, and the regulation of fares and rates, are among the recommendations contained in the recently issued report of the Indian Railway Inquiry Committee. Sir Ralph L. Wedgwood, general manager of the L.N.E. Railway Co., was chairman of the committee.
The committee declares that " no restriction should be imposed on road transport which would unfairly hamper its development." It finds that roadtransport conditions are " chaotic."
Regulation of road transport by Provincial Governments, in accordance with uniform principles enacted by the Central Government, is recommended.
(IN their holidays at some of the V./popular seaside resorts, many of our readers will undoubtedly have witnessed the excellent displays by The Daily mirror Eight—a troupe of girls who are conveyed by motor coach from one centre to another. This year the party is making use of a Leyland Tiger vehicle, and a more attractive propaganda medium it would surely be hard to find. Its appearance is distinctly modern and the exterior finish most impressive, a Union Jack emblazoned across each side panel forming an un
The committee advocates statutory provision in order that goods rates may be regulated at some future date.
David Brown in Birmingham.
The Birmingham office of David Brown and Sons (Hudd), Ltd., Huddersfield, the well-known maker of gears, is now at Prudential Buildings, Colmore Row.
Death of Mr. Henry Meadows.
We regret to learn of the death of Mr. Henry Meadows, which took place a few days ago, at his home in Wolverhampton, at the age of 57 years. He was founder and chairman of Henry Meadows, Ltd., Fallings Park, Wolverhampton.
usually distinctive method of treatment.
The body—a product of Messrs. Lancefield Coachworks, Wrenfield Place, London, W.10—is Streamlined to good purpose and is divided into five distinct compartments, comprising the driver's section, a public-address equipment and operating room, a dressing room, a section for passengers and a luggage and property compartment.
The driver's compartment is divided from the remainder of the coach by a full-length bulkhead, whilst the luggage and public-address sections are divided
GERMAN ROADS DELEGATION.
Considerable progress has been made with the arrangements in connection with the roads delegation, which is visiting Germany in the autumn. The party will leave Liverpool Street on September 24 and will visit Hanover, Berlin, Leipzig, Nurnberg, Munich, Heidelberg, Frankfurt and Cologne, travelling by motor coach on the motorways, and a journey of over 1,000 miles will afford an opportunity for inspecting the new road system.
The delegation is limited to 220 persons and is made up of approximately 60 Members of both Houses of Parliament, together with 100 representatives from county councils, alid officials of various societies.
by a full-length panelled partition with a sliding door, which gives access from one to the other. The luggage and passenger sections are also split up in a similar manner.
Full-length doors are used for the driver's, luggage and passenger compartments, but the public-address room has a half-length door on the near side, whilst there is an emergency door in the rear panel. A flush sliding roof over the front portion of the passengers' section gives access to the loud speaker. The 12 passengers are accommodated on six seats, three oil each side of a central gangway, the front four facing forwards and the rear two facing sideways. A combination of leather and cloth is used for the upholstery, and the squabs and cushions are built up on Lace Web spring frames.
Tags
Locations
:
Nurnberg
,
Frankfurt
,
Berlin
,
Munich
,
Hanover
,
London
,
Heidelberg
,
Birmingham
,
Cologne
,
Wolverhampton
,
Leipzig