TAKE MORE INTEREST IN BAILLIE REPORT!
30th July 1937
Page 33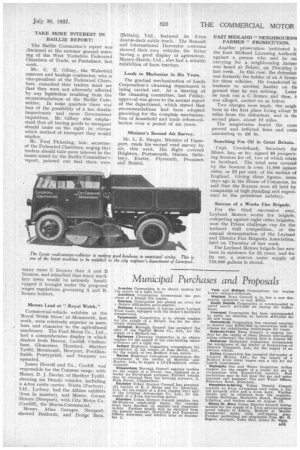 Page 33, 30th July 1937 —
TAKE MORE INTEREST IN BAILLIE REPORT!
Close
Keywords :
The Baillie Committee's report was discussed at the summer general meeting of the West Yorkshire Federated Chambers of Trade, at Pontefract, last week.
Mr. G. E. Gilhey, the Wakefield remover and haulage contractor, who is vice-president of the Federated Chambers, remarked that traders must see that they were not adversely affected by any legislation resulting from the recommendations of the Baillie Committee. In some quarters there was fear of the possibility of a too drastic inspectorate and more Government inquisition. Mr. Gilbey also emphasized that all having goods to transport should insist on the right to choose which method of transport they would employ.
Mr. Fred Pickering, hon. secretary of the Federated Chambers, urging that traders should take more interest in the issues raised by the Baillie Committee's eeport, pointed out that there were many more C licences than A and B licences, and remarked that many ancillary users would be seriously handicapped if brought under the proposed wages regulations governing A and Blicence holders.
Motors Lead at " Royal Welsh."
Commercial-vehicle exhibits at the Royal Welsh Show: at Monmouth, last week, were relatively superior in numbers and character to the agricultural machinery. The Ford Motor Co., Ltd., had a comprehensive display in which dealers from Brecon, Cardiff, Cheltenham, Gloucester, Hereford, Merthyr Tydfil, Monmouth, Newport, Ponillanfraith, Pontypridd, and Swansea cooperated.
James Howell and Co., Cardiff, was responsible for the Commer range, with Messrs. D. J. Davies, of Merthyr Tydfil, showing six Dennis vehicles, including a 4-ton cattle carrier. Watts (Factors), Ltd., Lydney, had the Albion exhibits (four in number), and Messrs. Gwent Motors (Newport), with City. Motor Co. (Cardiff), the Morris-Commercial.
Messrs. Atlas Garages, Newport; showed Bedfords, and Dodge Bros. (Britain), Ltd., featured its 2-ton double-deck cattle truck. The Renault and International Harvester concerns showed their own vehicles, the latter having a good display of agrimotors. Massey-Harris, Ltd., also had a notable exhibition of farm tractors.
Leeds to Mechanize in Six Years.
The gradual mechanization of Leeds Corporation's cleansing department is being carried out. At a meeting of the cleansing committee, last Friday, approval was given to the annual report of the department, which stated that recommendations had been adopted providing for the complete mechanization of household and trade refuse-collection over a period of six years.
Minister's Second Air Survey.
Mr. L. E. I3urgin, Minister of Transport, made his second road survey by air, this week. His flight covered Brighton, Portsmouth, Staines, Salisbury, Exeter, Plymouth, Penzance and Bristol. EAST MIDLAND" NEIGHBOURINt FARMER" PROSECUTION.
Another prosecution instituted b: the East Midland Licensing Authorit against a person who said he wa carrying for a neighbouring farmer was heard at Belper, on Thursday o last week. In this case, the defendan was formerly the holder of an A licenci for three vehicles. He transferred hi business to another haulier on thi ground that he was retiring. Later he took out a C licence and then, ii was alleged, carried on as before.
Two charges were made, the neigh. bour in the first place living about 2E miles from the defendant, and in the second place, about 12 miles.
The magistrates found the cases proved and inflicted fines and costs amounting to £.6 5s.
Searching For Oil in Great Britain.
Capt. Crookshank, Secretary for Mines, hasy so far, signed 69 prospecting licences for oil, two of which relate to Scotland. The total area covered by the licences is over 11,000 square miles, or 22 per cent, of the surface of England. Giving these figures, some days ago in the House of Commons, he said that the licences were all held by companies of high standing and experience in the petroleum indirstry, Success of a Works Fire Brigade.
For the third successive year, Leyland Motors works fire brigade, competing against eight other brigades, won the Prince challenge cup for the hydrant drill competition, . at the annual demonstration of the Leyland and District Fire Brigades Association, held on Thursday of last week.
The Leyland Motors brigade has now been in existence for 25 years, and for its use, a reserve water supply of 750,000 gallons is stored.