Road Transport for Reliability
30th July 1937
Page 32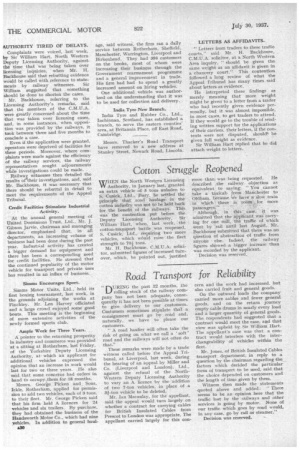 Page 32, 30th July 1937 —
Road Transport for Reliability
Close
" nURING the past 12 months, the LJ rolling stock of the railway company has not been adequate, consequently it has not been possible at times to give delivery to our customers. Customers sometimes stipulate that a consignment must go by road and, naturally, we have to please our customers.
"A road haulier will often take the risk of going on what we call a 'soft' road and the railways will not often do that."
These remarks were made by a trade witness called before the Appeal Tribunal, at Liverpool, last week, during the hearing of an appeal by Miller and Co. (Liverpool and London), Ltd., against the refusal of the Northwestern Deputy Licensing Authority to vary an A licence -by the addition of two 7-ton vehicles, in place of a 31-ton vehicle to be deleted.
Mr. Tan Macaulay, for the appellant, said the appeal would turn largely on whether a contract for carrying cables for British Insulated Cables from Prescot to London was appropriate. The appellant carried largely for this con cern and the work had increased, but also carried fruit and general goods.
On the outward loads the company carried more cables and fewer general goods, and on the return journey empty cable drums in nearly every load and a larger quantity of general goods. The respondents had suggested that a contract would meet the case, and that view was upheld by Sir William Hart. The appellant's case was that a contract would interfere with the interchangeability of vehicles within the fleet.
Mr. Jones, of British Insulated Cables transport department, in reply to a question by the chairman regarding the factors .which decided the particular form of transport to be used, said that the choice depended on customers and the length of time given by them.
Witness then made the statements quoted above and added: "There seems to be an opinion here that the traffic lost by the railways and other services is going by motor. None of our traffic which goes by road would, in any case, go by rail or steamer."
Decision was reserved. .