Cotton Struggle Reopened
30th July 1937
Page 32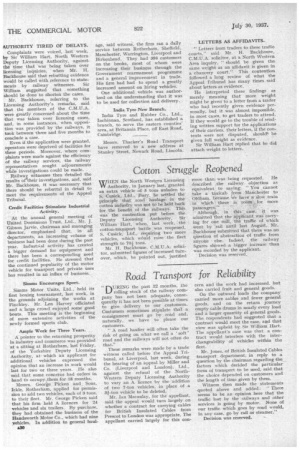 Page 32, 30th July 1937 —
Cotton Struggle Reopened
Close
Ity,THEN the North Western Licensing VV Authority, in January last; 'granted an extra vehicle of 5 tons unladen to S. Cusick, Ltd., Bury, he settled the principle that road haulage in the cotton industry was not to be held .ba,ek for the benefit of the railways. This was the contention put before the Deputy Licensing Authority, Sir William Hart, when, last week, the cotton-transport battle was reopened, S. Cusick, Ltd., requiring two more vehicles, which would raise the fleet strength to 7Gi tons.
Mr. H. Backhouse, C.M.U.A. solicitor, submitted figures of increased turnover, which, he pointed out, justified
more than was being requested. He described the railway objection as equivalent to saying: "You cannot take a taxicab from :Manchester to Oldham, because '11Ye have a slow train in winch there is room for more passengets.''
Although,. in this case, it was admitted that the applicant was carrying for one mill, the traffic of which went by rail until last August, Mr. Backhouse submitted that there was no question of abstraction .of traffic from anyone else. Indeed, the railway figures showeda bigger increase than was recorded by the applicant.
Decision was reserved,