7o Miles for gicl. by Rail
30th July 1937
Page 31
Page 32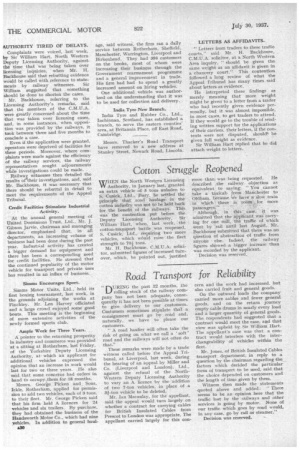 Page 31, 30th July 1937 —
7o Miles for gicl. by Rail
Close
Keywords :
rrlIAT for Old. he could send a table 1 by rail from Bradford to Heysham, a distance of some 70 miles, was an example of cheap railway transport, which the furniture manager of a large retail store quoted during a cliscussion on transport at a meeting of the Bradford Round Table (a youth organization on rotary lines), last Friday. The discussion followed an address on " The Road Transport Picture Today," given by Mr. Harold Goodwin, secretary of Blythe and Berwick (1928), Ltd., the Bradford road-transport contracting concern.
The example was quoted by the furniture manager when he asserted that a larger proportion of furniture was now being transported by rail, particularly because of cheap rates.
On the other hand, a tribute to road transport from the standpoint of the furniture manufacturer was paid by the chairman, Mr. Chadwick, a director of a large concern of furniture makers. He said that his company was formerly a large user of rail transport, but it changed over to road transport by purchasing 100 vans. Later, the company found it more economical to engage hauliers, and it was quite satisfied with the service provided, particularly in respect of the small number of breakages.
Mr. Goodwin agreed that road transport could not compete with the railways if it came to a matter of carrying odd tables 70 miles for 914. Doing the work at such a figure was. Ire sug gested, a form of rate-cutting. He could not agree that a larger proportion Of furniture was now being transported by rail.
Mr. Barber, a Bradford solieitor, criticized the Road and Rail Traffic Act, contending that it tended to create a road-transport monopoly, vhich was not in the public interest. He considered that the dosing' of the door to new entrants was unjust, as every man should have a fair chance to serve the public in the way for which he was best fitted.
Mr. Goodwin said that the possibility of a monopoly in road transport was remote. The further restriction of road transport would fend to place that monopoly again in railway hands.. AU'THORITY TIRED OF DELAYS.
Complaints were voiced, last week, by Sir William Hart, North Western Deputy Licensing Authority, against. the time that was being taken over licensing inquiries, when Mr. H. liackhouSe said that rebutting evidence would be railed with reference to statements by railway witnesses. Sir William suggested that something should be done to shorten the cases.
Mr. Backhouse, referring to the Licensing Authority's remarks, said that the members of the C.M.U.A. were greatly concerned about the time that was taken over licensing cases, and, in some instances, when opposition was provided by the railways, it took between three and five months to conclude a case.
Even if the application were granted, operators were deprived of facilities for these periods. Moreover, where complaints were made against the efficiency of the railway services, the railway representatives sought adjournments .while investigations could be made.
• Railway witnesses then detailed the results ortheir investigations, and, said Mr. Backhouse, it was necessary that there should be rebuttal in detail to meet the requirements of the Appeal Tribunal.
Credit Facilities Stimulate Industrial Activity.
At the annual general meeting of United Dominions Trust, Ltd., Mr. J. Gibson Jarvie, chairman and managing director, emphasized that, in all departments, an increasing volume of business had been done during the past year. Industi4a1 activity has created a bigger demand for equipment and there has been a corresponding need for credit facilities. He stressed that the continued popularity of the motor vehicle for transport and private uses has resulted in an influx of business.
Simms Encourages Sport.
Simms Motor Units, Ltd., held its first boxing tournament, last week, in the grounds adjoining the works at Finchley. Mr. Len Harvey officiated and a large crowd enjoyed some good bouts. This meeting is the beginning of more extensive activities of the newly formed sports club.
Ample Work for Three Years.
A pointer to the returning prosperity in industry and commerce was provided at a sitting at Rotherham, last Friday, of the Yorkshire Deputy Licensing Authority, at. which an applicant for additional vehicles expressed the opinion that an increase in work would last for two or three years. He also • said that some concerns had orders in hand to occupy.them for 18 months.
Messrs. George Picken and Sons, Ickle, Rotherham, applied for permission to add two vehicles, each of 3 tons, to their fleet. Mr. George Picken said that his firm held A licences for 24 vehicles and six trailers. By purchase, they had obtained the business of the Handsworth Motor Co., which had nine vehicles. In addition to general haul
â30 age, said witness, the firm ran a daily service between Rotherham, Sheffield, Manchester, Warrington, Liverpool and Birkenhead. They had 356 customers on the books, most of whom were increasing their business through the Government rearmament programme and a general improvement in trade. His firm had had to spend a greatly increased amount on hiring vehicles.
One additional vehicle was authorized on the understanding that it was to be used for collection and delivery.
India Tyre New Branch.
India Tyre and Rubber Co., Ltd., Inchinnan, Scotland, has established a branch, to serve the eastern counties' area, at Britannia Place, off East Road, Cambridge.
Messrs. Thacker's Road Transport have removed to a new address at Stanley Street, Newark Road, Lincoln. LETTERS AS AFFIELAVITS.
"Letters from traders to these traffic courts," said Mr. H. Backhouse, solicitor, at a North Western Area inquiry, "should be given the same weight as an affidavit is given in a chancery court." This contention followed a long review of what the Appeal Tribunal has many times said about letters as evidence.
He interpreted these findings as merely meaning that more weight might be given to a letter from a trader who had recently given evidence personally, but it was almost impossible, in most cases, to get traders to attend. If they would go to the trouble of sending written support for the applications of their carriers, their letters, if the contents were not disputed, should be given full weight as evidence.
Sir William Hart replied that he did attach weight to letters.