SPEED CONDITION BREACH HIGH COURT RULING.
30th July 1937
Page 30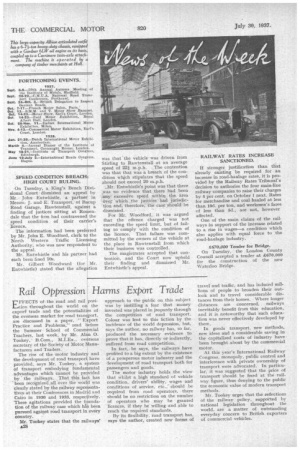 Page 30, 30th July 1937 —
SPEED CONDITION BREACH HIGH COURT RULING.
Close
On Tuesday, a King's Bench ivisional Court dismissed an appeal by Mr. John Entwhistle, a partneil in Messrs; J. and E. Transport, of B cup Road Garage, Rawtenstall, against a finding of justices sitting at Rosendale that the firm had contravenes the .speed condition of their c. 'er's licence.
The information had been pref rred by Mr, John E. Woodford, clerk t the North Western Traffic Lice sing Authority, who was now responde t to the appeal.
Mr. Entwhistle and his partner had each been fined 10s.
Mr. Gilbert Woodward (for Mr. Entwhistle) stated that the alleg tion was that the vehicle . was driven from Stirling to Rawtenstall at an average speed of 22i m.p.h. The contention was that that was a breach of the condition which stipulates that the speed should not exceed 20 m.p.h.
,Mr. Entwhistle's point was that there was no evidence that there had been
• any excessive speed within the area over "which the justices had jurisdiction and, therefore, the case .should be dismissed.
For Mr. Woodford, it was argued that the offence charged was not exceeding the speed limit, but of failing to comply with the condition of the licence. That failure was committed by the owners of the vehicle at the place in Rawtenstall from which their business was controlled.
The magistrates accepted that contention, and the Court now upheld their finding and dismissed Mr. Entwhistle's appeal.