Non-Motor Exhibitions._By Henry Sturmey.
30th July 1908
Page 13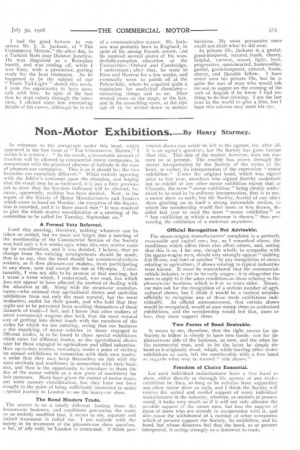 Page 13, 30th July 1908 —
Non-Motor Exhibitions._By Henry Sturmey.
Close
In reference to the paragraph under this head, which appeared in the last issue of " TEE COMMF.RCIAL MOTOR," I notice it is written :" In the result, a reasonable amount of freedom will be allowed to commercial motor companies, in comparison with the practical absence of latitude in the case of pleasure-car companies. This is as it should be; the two branches are essentially different." While entirely agreeing with the Editor's comment upon the situation, and hoping that the result may be as indicated, it is just a little previous yet to state that the freedom indicated will be allowed, because, apparently, nothing has been decided_ Now, in the report of the Society of Motor Manufacturers and Traders which came to hand on Monday, the reception of the deputation is recorded, and it is there stated that " It was resolved to give the whole matter consideration at a meeting of the committee to be called for Tuesday, September ist."
A Formal Vote Deferred.
Until this meeting, therefore, nothing whatever can be taken as settled, but we must not forget that a meeting of the membership of the Commercial Section of the Society. was held only a few weeks ago, when this very matter came up for consideration, and it was decided, I believe, that no change from the existing arrangements should be made, that is to say, that the bond should bar commercial-vehicle makers, as it does pleasure-car makers, from participating in any show, save and except the one at Olympia. Unfortunately, I was not able to be present at that meeting, but I wrote a letter which, I understand, was read, but which does not appear to have affected the method of dealing with the situation at all.. Along with the steam-car manufacturers—who contendthat agricultural shows and such-like ?s-xhibitions form not only the most natural, but the most lroductive, outlet for their goods, and who hold that they :it:gilt not to be prevented from availing themselves of these :hannels of trade—I feel, and I know that other makers of etrol commercial wagons also hold, that the most natural way. of getting into direct touch with the members of the .rades for which we are catering, seeing that our business s the supplying of motor vehicles to those engaged in lifferent trades, is to be found in those special exhibitions vhich cater for different trades, as the agricultural shows ;ater for those engaged in agriculture and allied industries. kiost up-to-date traders, nowadays, make a point of visiting he annual exhibitions in connection with their own trades,
n order that they may keep themselves au fait with the atest methods and machinery in connection with their busiless, and then is the opportunity to introduce to them the den of the motor vehicle as a new piece of machinery for heir purposes. !Many have given the matter of motor transmrt some cursory consideration, hut they have not been • rought to the point of being sufficiently interested to make special journey to London to see the heavy-car show.
The Bond Hinders Trade.
The matter is on a totally different footing from the leasure-car business, and conditions governing the trade re -so entirely modified that, it seems to me, separate and istinct treatment is called for. I am entirely with the ;ocietyin its treatment of the pleasure-car show question,
o Tat aUamy rafCa's'London is concerned.: • f -think pro- vincial shows can safely be left to the agents, for, after all, it is an agent's question ,• but the Society has gone furtber than this. This side of the matter, however, does not concern us at present. The trouble has arisen through the recent interpretation by the Society of the terms of the bond, or rather, its interpretation of the expression " motor exhibition." Under the original bond, which was signed prior to last year, members who signed thereby undertook not to exhibit at any other motor exhibition except that at Olympia, the term " motor exhibition " being clearly understood to be read In its ordinary interpretation, that is to say, a motor show as such ; hut the Society, fearful of any other show grafting on to itself a strong automobile section, to which the membership would feel more or less drawn, decided last year to read the term " motor exhibition " as " Any exhibition at which a motorcar is shown," thus preventing the exhibition of a motorcar anywhere.
Official Recognition Not Advisable.
The steam-wagon manufacturers' complaint is a perfectly reasonable and logical one ; but, as I remarked above, the conditions which affect them also affect others, and, seeing that this is so, I for one, though wholly in sympathy with the swam-wagon men, should very strongly oppose" making fish Zf one, and fowl of another " by any recognition of shows relating to agriculture, if shows relating to typical industries weise barred, It must be remembered that the commercialvehicle industry is yet in its early stages : it is altogether too soon to apply to it the same conditions as those relating to the pleasure-car business, which is 8 or in years older. Steamcar men ask for the recognition of a certain number of agricultural 'shows, but I think it would be a tactical mistake officially to recognise any of these trade exhibitions indiyidually. An official announcement, that certain shows would be recognised, would at once stamp them as authorised exhibitions, and the membership would feel that, more or less, they must support them.
Two Forms of Bond Desirable.
It seems to me, therefore, that the right course for the Society to follow is simply to have two bonds-one for the pleasure-car side of the business, as now, and the other for the Commercial man, and, to let the latter be simply the bond as it originally stood, which, while barring other motor exhibitions as such, left the membership with a free hand
regards what may be termed " side shows."
Freedom of Choke Essential.
Let each individual manufacturer have a free hand to show, either directly or through his agents, at any trades exhibition he likes, so long as he refrains from supporting any other motor show as such, and I think the Society will receive the united and cordial support of every individual manufacturer in the industry, whereas, as matters at present stand, it lboks very much as if it will not only alienate the possible support of the steam men, but lose the support of those of them who are already in co-operation with it, and also cause the withdrawal of a number of other companies which at present support the .Society, its exhibition, and its bond, but whose directors feet that the bond, as at present interpreted, is acting strongly as-a deterrent to trade.