United looking for subbies
30th January 2014
Page 9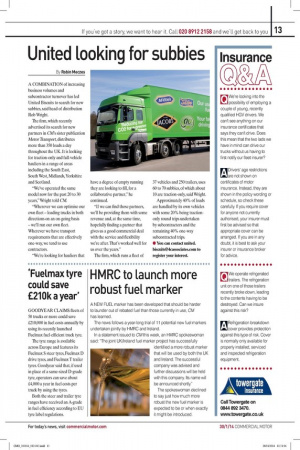 Page 9, 30th January 2014 —
United looking for subbies
Close
By Robin Meczes
A COMBINATION of increasing business volumes and subcontractor turnover has led United Biscuits to search for new subbies, said head of distribution Rob Wright. The firm, which recently advertised its search for new partners in CMs sister publication Motor Transport, distributes more than 350 loads a day throughout the UK. It is looking for traction-only and full-vehicle hauliers in a range of areas including the South East,
South West, Midlands, Yorkshire and Scotland. "We've operated the same model now for the past 20 to 30 years," Wright told CM
"Wherever we can optimise our own fleet — loading trucks in both directions on an on-going basis — we'll run our own fleet. Wherever we have transport requirements that are effectively one-way, we tend to use contractors. "We're looking for hauliers that
have a degree of empty running they are looking to fill, for a collaborative partner," he continued.
"If we can find those partners, we'll be providing them with some revenue and, at the same time, hopefully finding a partner that gives us a good commercial deal with the service and flexibility we're after. That's worked well for us over the years." The firm, which runs a fleet of
37 vehicles and 250 trailers, uses 60 to 70 subbies, of which about 10 are traction-only, said Wright.
Approximately 40% of loads are handled by its own vehicles with some 20% being tractiononly round trips undertaken by subcontractors and the remaining 40% one-way subcontracted trips.
• You can contact united. biscuits@4cassociates.com to register your interest.