EC plans changes to 'out-of-date directive
30th January 2014
Page 8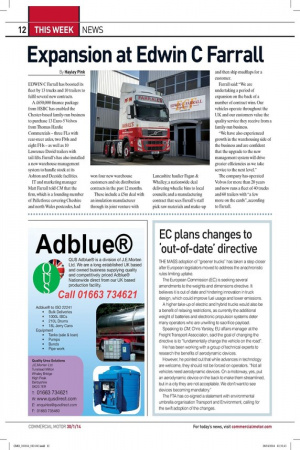 Page 8, 30th January 2014 —
EC plans changes to 'out-of-date directive
Close
THE MASS adoption of "greener trucks" has taken a step closer after European legislators moved to address the anachronistic rules limiting uptake.
The European Commission (EC) is seeking several amendments to the weights and dimensions directive. It believes it is out of date and hindering innovation in truck design, which could improve fuel usage and lower emissions.
A higher take-up of electric and hybrid trucks would also be a benefit of relaxing restrictions, as currently the additional weight of batteries and electronic propulsion systems deter many operators who are unwilling to sacrifice payload. Speaking to CM, Chris Yarsley, EU affairs manager at the Freight Transport Association, said the goal of changing the
directive is to "fundamentally change the vehicle on the road".
He has been working with a group of technical experts to research the benefits of aerodynamic devices.
However, he pointed out that while advances in technology are welcome, they should not be forced on operators. "Not all vehicles need aerodynamic devices. On a motorway, yes, put an aerodynamic device on the back to make them streamlined, but in a city they are not acceptable. We don't want to see devices becoming mandatory."
The FTA has co-signed a statement with environmental umbrella organisation Transport and Environment, calling for the swift adoption of the changes.