New world order
30th January 2014
Page 7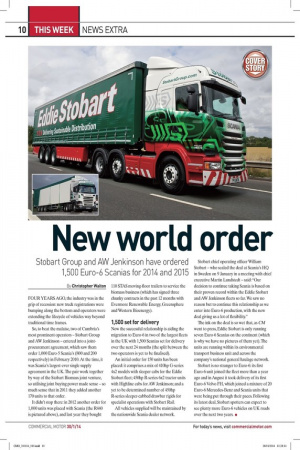 Page 7, 30th January 2014 —
New world order
Close
Stobart Group and AW Jenkinson have ordered 1,500 Euro-6 Scanias for 2014 and 2015 By Christopher Walton
FOUR YEARS AGO, the industry was in the grip of recession: new truck registrations were bumping along the bottom and operators were extending the lifecycle of vehicles way beyond traditional time frames.
So, to beat the malaise, two of Cumbria's most prominent operators — Stobart Group and AW Jenkinson — entered into a jointprocurement agreement, which saw them order 1,000 Euro-5 Scania's (800 and 200 respectively) in February 2010. At the time, it was Scania's largest-ever single supply agreement in the UK. The pair work together by way of the Stob art Biomass joint venture, so utilising joint buying power made sense — so much sense that in 2011 they added another 170 units to that order. It didn't stop there: in 2012 another order for 1,000 units was placed with Scania (the R440 is pictured above), and last year they bought
110 STAS moving-floor trailers to service the biomass business (which has signed three chunky contracts in the past 12 months with Evermore Renewable Energy, Greensphere and Western Bioenergy).
1,500 set for delivery
Now the successful relationship is aiding the migration to Euro-6 in two of the largest fleets in the UK with 1,500 Scanias set for delivery over the next 24 months (the split between the two operators is yet to be finalised).
An initial order for 150 units has been placed: it comprises a mix of 410hp G-series 4x2 models with sleeper cabs for the Eddie Stobart fleet; 450hp R-series 6x2 tractor units with Highline cabs for AW Jenkinson; and a yet to be determined number of 450hp R-series sleeper-cabbed drawbar rigids for specialist operations with Stobart Rail.
All vehicles supplied will be maintained by the nationwide Scania dealer network.
Stobart chief operating officer William Stobart — who sealed the deal at Scania's HQ in Sweden on 9 January in a meeting with chief executive Martin Lundstedt — said: "Our decision to continue taking Scania is based on their proven record within the Eddie Stobart and AW Jenkinson fleets so far. We saw no reason but to continue this relationship as we enter into Euro-6 production, with the new deal giving us a lot of flexibility."
The ink on the deal is so wet that, as CM went to press, Eddie Stobart is only running seven Euro-6 Scanias on the continent (which is why we have no pictures of them yet). The units are running within its environmental transport business unit and across the company's national general haulage network. Stobart is no stranger to Euro-6: its first Euro-6 unit joined the fleet more than a year ago and in August it took delivery of its first Euro-6 Volvo FH, which joined a mixture of 20 Euro-6 Mercedes-Benz and Scania units that were being put through their paces. Following its latest deal, Stobart spotters can expect to see plenty more Euro-6 vehicles on UK roads over the next two years. •