eating with pressure
30th January 2014
Page 38
Page 39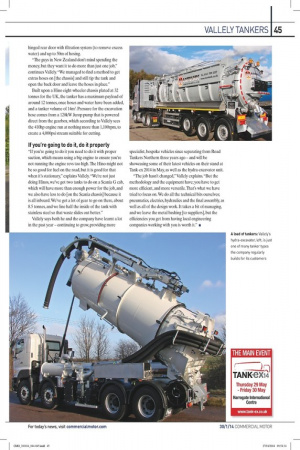 Page 38, 30th January 2014 —
eating with pressure
Close
Find out how one tanker company is making a big impression on the other side of the world with its hydra-excavators By George Barrow
WORD OF MOUTH about Gerry Vallely's products is spreading throughout the world. The work of his company, Vallely Tankers, has long been well-regarded on these shores, but it was to be a second-hand vacuum tanker exported to New Zealand that would kickstart this veteran of the tanker sector's exciting new project into manufacturing hydra-excavators. Impressed by the quality of the imported vacuum tanker, a client in New Zealand approached Vallely about
building a new unit. One unit turned into more orders, and then discussions began about combining an excavator system into a future build.
Despite their use being largely limited to utility and motorway work in the UK, vacuum excavators aren't a new concept — high-pressured air or water is used as a cutting tool, while the debris is sucked into the tanker using a fan-based system — and they are widely used in the southern hemisphere for even the smallest of jobs. What Vallely and his New Zealand customer wanted to combine was the more powerful Jurop pump used on his waste and ADR vacuum tankers, with a high-pressure water system, powered exclusively by the onboard powertrain to increase performance and payload potential.
A highly efficient result
The result was a highly efficient hydra-excavator that can be used as a standard vacuum tanker, and also double as an excavator.
"We've got a reputation for developing new ideas, and we didn't want to miss out on this one," explains Gerry Vallely, Vallely Tankers MD. "If you use a fan-type suction, it's like a big vacuum cleaner, so if it hits something big it will just stop sucking, whereas ours maintains suction. It has a 93% vacuum, and will keep going even underwater." Vallely describes the unit as an adaptation of the standard vacuum tanker, but says they are "really upping the spec" by adding a 10m remote-controlled boom,
hinged rear door with filtration system (to remove excess water) and up to 50m of hosing.
"The guys in New Zealand don't mind spending the money, but they want it to do more than just one job," continues Vallely. "We managed to find a method to get extras hoses on [the chassis] and still tip the tank and open the back door and leave the hoses in place."
Built upon a Hino eight-wheeler chassis plated at 32 tonnes for the UK, the tanker has a maximum payload of around 12 tonnes, once hoses and water have been added, and a tanker volume of 14m3. Pressure for the excavation hose comes from a 120kW Jurop pump that is powered direct from the gearbox, which according to Vallely sees the 410hp engine run at nothing more than 1,100rpm, to create a 4,000psi stream suitable for cutting.
If you're going to do it, do it property
"If you're going to do it you need to do it with proper suction, which means using a big engine to ensure you're not running the engine revs too high The Hino might not be so good for fuel on the road, but it is good for that when it's stationary," explains Vallely. "We're not just doing Hinos, we've got two tanks to do on a Scania G cab, which will have more than enough power for the job, and we also have less to do [on the Scania chassis] because it is all inboard. We've got a lot of gear to go on there, about 8.5 tonnes, and we line half the inside of the tank with stainless steel so that waste slides out better." Vallely says both he and the company have learnt a lot in the past year — continuing to grow, providing more
specialist, bespoke vehicles since separating from Road Tankers Northern three years ago — and will be showcasing some of their latest vehicles on their stand at Tank-ex 2014 in May, as well as the hydra-excavator unit. "The job hasn't changed," Vallely explains. "But the methodology and the equipment have; you have to get more efficient, and more versatile. That's what we have tried to focus on. We do all the technical bits ourselves; pneumatics, electrics, hydraulics and the final assembly, as well as all of the design work. It takes a bit of managing, and we leave the metal bashing [to suppliers], but the efficiencies you get from having local engineering companies working with you is worth it." •